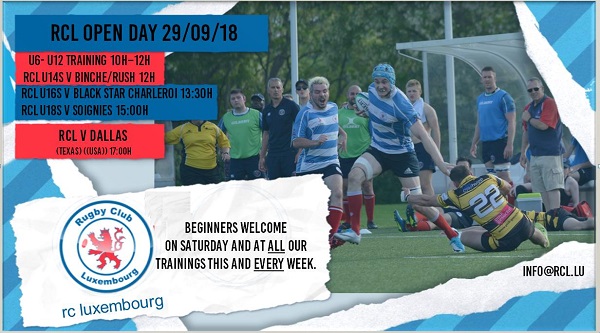 Rugby Club Luxembourg (RCL) will have a busy day this Saturday 29 September 2018 as they host four matches, their Open Day and also co-host the Be-Active event.
Proceedings start at 10:00 with junior training until 12:00 when the U14s take on Binche/Rush.
13:30 is the kick off for RCL U16s v Charleroi Black Star, and at 15:00 the RCL U18s face Soignes in a Belgian division 1 championship encounter. The main event is the RCL v Dallas Athletic Club seniors match at 17:00.
Beginners are welcome all day to take part in Rugby workshops and experience rugby for the first time.
Meanwhile, the seniors 1st XV will be travelling to RK Heusenstamm for a Bundesliga Division one match, predicted to be a close encounter, based on early season results to date.