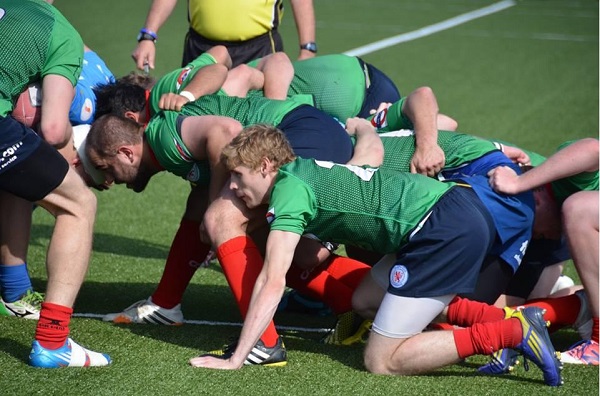 Rugby Club Luxembourg (RCL)'s senior men's side finally reached the promised land on Saturday afternoon with Paul Remedi's men winning a stirring 12-9 promotion play-off against Munich RFC at the Stade Boy Konen in Cessange.
The game was hard fought and tightly contested right down to the final whistle. Munich proved to be as expected, tough and playing a strong and direct running style and using their physical and well drilled pack to good effect. RCL started strongly however, with their set-piece lineout and scrum giving a firm platform and RCL's more aggressive defence, exemplified by one enormous and perfectly timed hit by Tertius Barnard cutting Munich's runners down and stopping them getting any real momentum.
RCL were the more dangerous when they got the ball wide and had two excellent chances to score, but solid defending by Munich and then the length of a fingertip frustrated their efforts. Winger Eduardo Angioni left the field injured on 25 minutes to be replaced by Pierre Hailette. But it was Munich who led 6-0 at half time, thanks to two penalties, while RCL rued two missed shots at goal.

The second half was equally tense, but the game changed after 15 minutes when RCL's outhalf Adrien Timmermanns launched a blistering run from inside his own half that eventually saw him offload to winger Haillette for a score in the right-hand corner. The conversion attempt was wide. Munich came back strongly and added a penalty to make it 9-5 with a quarter to play. With the clock ticking, RCL made changes in the pack to keep the momentum going and then got back into the Munich 22. The pack then took control with a series of close-in pick and drives that tied Munich in and eventually led to scrum-half Stuart Logier crashing over through a gap just to the right of the posts to make it 9-10. The conversion was good for a 9-12 lead and RCL regrouped to close the game out strongly, forcing errors and keeping Munich pinned in their own half.
Fittingly is was man-of-the-match Logier who had the final say, sending a late penalty for an infringement at the ruck sailing off the pitch to the sound of the referee's whistle and delirious scenes as the RCL players, management and supporters embraced each other to celebrate an outstanding victory and the culmination of two seasons of efforts.

The win sees RCL promoted to the top tier of German rugby for the first time, winning 11 out of their 12 games over the season and the club will now face an even bigger challenge competing at the highest level at which the club's seniors will have ever played.

RCL will host its annual JPMorgan-sponsored under 12s tournament next Saturday at Cessange and then holds its annual Gala Ball & Awards Ceremony on 11 June at the Hotel Royale. For further details see www.rcl.lu.