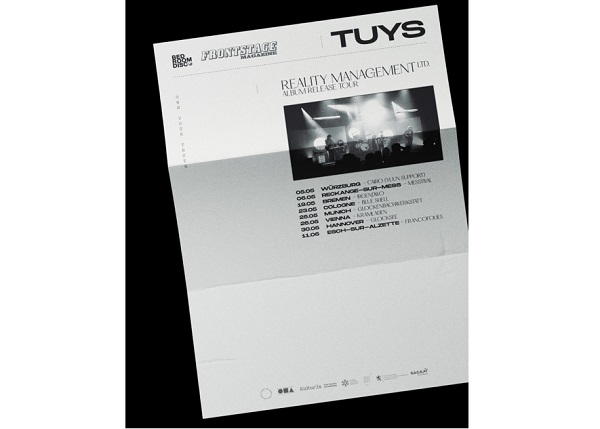 TUYS Album Release Tour; Credit: Two Steps Twice
The music management and promotion company Two Steps Twice has announced two new releases: TUYS' single and video "Every Day Soleil", and Reveal Party's new album "Favourite Person".
TUYS, the Luxembourgish indie and alternative, dance-rock band recently released the single "Everyday Soleil", which will be their last before the album and short-film release on 28 April 2023. Their sound features driving synthesizers and distorted basslines, combined with a genre-bending pop aesthetic.
Their latest single "Look Alive" was playlisted in Spotify's All New Rock (United States), Indie Goesting (on the cover), New Music Friday BE and All New Noise, generating 15,000 monthly listeners. TUYS are starting their tour on 13 March 2023 and they have also announced their album release tour for May.

Emily Holm Nyhuus, better known as Reveal Party, has also brought out the new album "Favourite Person". Her songs explore love and her life as a trans woman, complex feelings and their chaos, as well as the need to distance oneself from them as they occur. Distorted guitars frame Emily's dark and sarcastic, yet also genuine and vulnerable lyrics. Her source of inspiration was Midwestern emo and uplifting pop-songs, and her songs thereby blend melancholy and hope.

Reveal Party received airplay on the Danish radio stations P6 Beat and P3 and was featured in interviews with Danish media such as DR. Femina, Go' Morgen Danmark, and Sound-venue. In 2021 she received the music prize at the Danish Rainbow Awards, and so far she has released two EPs and played more than 35 shows in 2022 alone, including opening this year's Roskilde Festival on its Rising Stage.