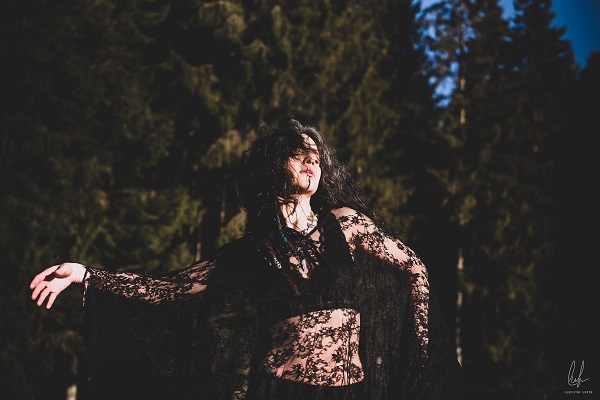 Inspiration; Credit: PTOLOMEA
PTOLEMEA, the artistic project of Luxembourgish singer-songwriter Priscila Da Costa, has released its new single "Inspiration" and officially launched the promotion of its first album, planned for early 2023.
With her last single release "Wrong Tears", Priscila Da Costa announced that her musical project is evolving: welcome to the pagan rock, dark folk sound of PTOLEMEA.
Her new song "Inspiration" traces a tormented story, surprisingly turned towards hope. The singer, with her shamanic voice, invites listeners to join her in a pure and powerful universe with mystically reassuring tunes.
"Inspiration" was recorded by the producer Sacha Hanlet, alias Falcon, at "Them Lights" studio at Kulturfabrik in Esch-sur-Alzette. This new song, written by Priscila Da Costa, was mixed by Vincent Habay (France) and mastered by Jon Tornblom from Transparent Mastering (Canada).
The music video (see below) was filmed by David Laplant Film in the forest of Ehlenz in Germany. It shows Priscila Da Costa taking her path step by step through the heart of a majestic forest, at the dawn of a new day. The singer welcomes the energies and lets herself be inspired by the nature that surrounds her.
With this new single, PTOLEMEA sets the tone while remaining faithful to its values. As Priscila Da Costa said: "We can find inspiration in the pain of the past and turn those 'negative' emotions into something creative. Our source of inspiration is limitless".
"Inspiration" confirms the quality and uniqueness of PTOLEMEA's debut album, which is scheduled for release in early 2023 at the Rockhal Club in Esch-sur-Alzette.