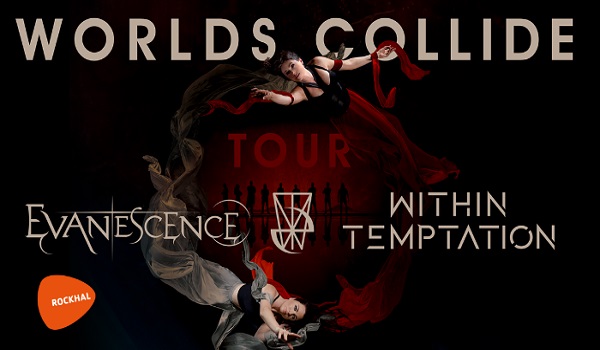 The lead singers from Evanescence and Within Temptation will be in Luxembourg next spring for a joint concert being held at the Rockhal in Esch-Belval on Sunday 26 April 2020; doors will open at 19:00 for an 20:00 start.
Two of the most influential women in the rock world will unite for a co-headline world tour next year. Amy Lee from Evanescence and Sharon Den Adel from Within Temptation will join forces for the "Worlds Collide" European Tour 2020, which includes a stop in Luxembourg.
Formed in the mid-90s, the two-time Grammy Award-winning Evanescence was integral in establishing a global, critical mass for women in rock. The group's 2003 landmark debut album "Fallen" laid the foundations, spending 43 weeks on the Billboard Top 10 and selling more than seventeen million copies worldwide.
Following multiple worldwide tours, "The Open Door" came next, which went on to sell more than five million copies, followed by the self-titled "Evanescence", which debuted at No.1 in the Billboard Charts. Evanescence, composed of lead singer-songwriter and pianist Amy Lee, bassist Tim McCord, drummer Will Hunt, lead guitarist Troy McLawhorn and guitarist Jen Majura, went down both very new and familiar paths for their fourth and most ambitious release to date, "Synthesis", in 2017.
Similarly, Within Temptation, the legendary leaders of dark anthemic music with a career spanning two decades, recently signed a worldwide deal with Universal Music Germany, partnering with Spinefarm Records for North America and the UK. This collaboration came ahead of their latest album "Resist", released in February 2019. With seven studio albums under their belt and more than 3.5 million record sales to their name, Within Temptation (led by Sharon den Adel and Robert Westerholt) are a force to be reckoned with. The band previously headlined all of the major festivals in Europe and received numerous international awards, including a World Music Award, MTV Europe Music Awards, a Metal Hammer Award and many more.
"Resist" marks a departure for the band; primed with ten anthemic tracks and driven by grand melodies and dark hooks, this new album puts a futuristic spin on the world of heavier music, both instrumentally and thematically. In fact, Resist has received a number of No.1 positions internationally, including Germany for the first time in the band's career.
Tickets will go on sale for the Evanescence-Within Temptation "Worlds Collide" Luxembourg concert this Thursday 31 October 2019 at 10:00. Normal standing tickets cost €63 (plus €5 presale fee), whilst Early Entry tickets cost €83 (plus presale fee). There are also two packages on offer: the Soundcheck Package for €197 (plus presale fee) and the Meet & Greet Package for €332 (plus presale fee).
For further information and to purchase tickets, visit https://www.rockhal.lu/events-tickets/metal-heavy/show/detail/evanescence/.