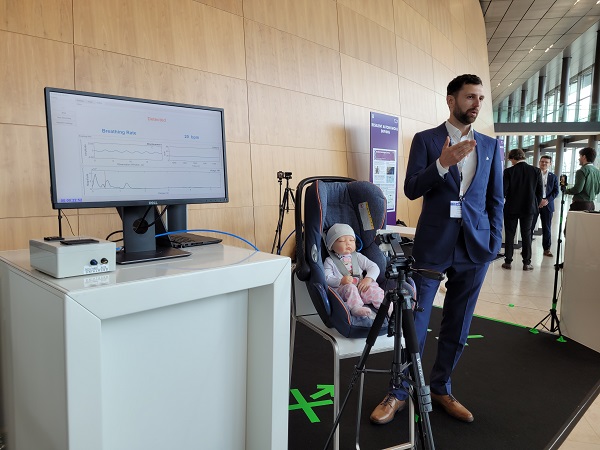 Credit: Jazmin Campbell/Chronicle.lu
On Thursday 11 May 2023, the Interdisciplinary Centre for Security, Reliability and Trust (SnT) of the University of Luxembourg held a new edition of its Partnership Day at the European Convention Center Luxembourg (ECCL).
The SnT Partnership Day is an invitation-only event aimed at fostering innovation and collaboration between partners and researchers. The 2023 edition kicked off with introductory talks by Luxembourg's Prime Minister Xavier Bettel, the Rector of the University of Luxembourg, Jens Kreisel, and the Director of SnT, Björn Ottersten. The keynote speaker was Ruy Pinto, Chief Technology Officer (CTO) of SES. The event continued on Thursday afternoon with five-minute "flash talks" by industry representatives and demo tours, followed by networking over food and drinks.
Prior to the official programme, members of the press, including Chronicle.lu, were invited for a press demo tour, led by the Head of SnT's Technology Transfer Office (TTO), Carlo Duprel. Journalists had the opportunity to learn about research projects in the areas of space, cybersecurity, and autonomous vehicles and the internet of things (IoT).
More specifically, researchers presented their work related to artificial intelligence (AI) for use in 3D reverse engineering, smart home charging solutions for electric vehicles, modern radar systems that measure vital signs (namely the heart and respiratory rates), IT research blended with quantum physics principles to address the threat of quantum computers, off-the-shelf hardware that protects satellites and other electronics from radiation in space, and enabling 5G connectivity in remote areas via satellites.
Carlo Duprel stressed that working together with industry players was "fundamental" in developing research that meets real-world problems. He noted that many of the projects presented at this event had significant commercial potential.
SnT Director Björn Ottersten described the Partnership Day as the "highlight of the year" for SnT, allowing it to "bring researchers together with partners and showcase research". He added that the team was "honoured" to have Prime Minister Bettel speaking at this edition, as well as the CTO of SES, an important long-term partner for SnT. Whilst the event traditionally took place every twelve months, COVID-19 had disrupted this pattern and the last edition took place back in November 2021. However, the Partnership Day appears to be "back on track" and will take place again annually.
Chronicle.lu also had the opportunity to speak with Prof Dr Christian Fisch about the relatively new SnT (non-technical) research group for Entrepreneurship, Innovation and New Technology (EINT) (which he leads). He described entrepreneurship as "one of the most exciting ways in which we can make an impact on society."
Similarly, Andreas Hein, Professor for Space Systems Engineering at SnT, spoke about his team's work developing and launching "extremely small" spacecraft into space - which fits with the current trend towards minitiarised electronics in space - to "accomplish disruptive new missions". His team has two initial missions in the pipeline: one to fly with SpaceX in summer (sending AI into space for anomaly detection on spacecraft) and another with LuxSpace in autumn (to see how light can be used to transmit information).
SnT cybersecurity expert Prof Dr Gabriele Lenzini discussed the ethics of cybersecurity, namely how to behave ethically in research and understanding the legal implications, for example when one discovers a vulnerability in their research. He also explained how national cybersecurity responses can help in this area.
Finally, Prof Dr Peter Ryan, Professor of Applied Security at the University of Luxembourg, elaborated on his team's work (briefly presented during the press demo tour earlier) in the area of quantum-resistant cryptography, among others.