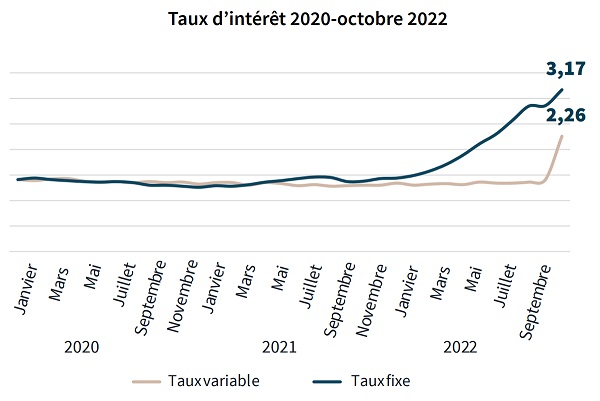 (Above) Weighted average interest rates, excluding commissions (source: BCL); (below) Robby Cluyssen, Residential Agency Director at JLL Luxembourg; Credit: JLL Luxembourg
At a press conference on Wednesday 25 January 2023, real estate agency JLL Luxembourg took stock of the Grand Duchy's 2022 office and investment as well as residential real estate market.
Less purchasing power = declining sales
JLL noted that the residential market was particularly impacted by the increase in interest rates, which made access to property more difficult, and in turn by increased demand on the rental market.
In 2022, the residential market for sales and acquisitions suffered from the increase in interest rates. The purchasing power dedicated to real estate fell while selling prices remained stable for the most part. For example, for a monthly payment of €3,200, the borrowing capacity decreased from €887,083 in January 2022 to €683,330 in December 2022.
In addition, JLL noted that private investors remained cautious or even absent from the market, as high interest rates (above 4%), inflation (6%) and a limited return (often below 3%) have been suffocating interest in investing in residential real estate and encouraging caution when acquiring a property.
The Luxembourg real estate agency highlighted one positive consequence of the decrease in sales: real estate speculation is at a standstill.
JLL said that in 2023 it expected a regularisation of the market with a stabilisation of selling prices for the centre of the country and more than a slight increase in prices on the outskirts and in regional towns.
Booming rental market
In 2022, the rental market benefited from the reorientation of demand, which is now so high that there is a risk of a shortage in the rental market. For 2023, JLL noted that it expected an increase in rents due to this imbalance between supply and demand. This increase combined with the stabilisation of selling prices is expected to have a positive effect on yields.
Concerning new regulations, JLL noted that the measures provided for in the draft law relating to the overhaul of the rental lease aimed at protecting tenants have led to uncertainty among landlords about the future return on their residential real estate investments. Many investors are thus postponing any investment for the moment.
JLL concluded that the supply of rental properties would soon be insufficient to meet demand. This increased demand on the rental market and a future stabilisation of selling prices could offer opportunities to developers and investors who wish to position themselves in build-to-rent projects.
"2022 was a game changer"
Speaking to Chronicle.lu, Robby Cluyssen, Residential Agency Director at JLL Luxembourg, described 2022 as a "game changer" for the residential real estate market in the Grand Duchy. He noted that the prices of properties for sale increased by double-digit percentages between 2018 and 2020 and had been particularly notable for new builds. However, "2022 was a bit different", particularly by February-March (Russia's invasion of Ukraine), when interest rates began to rise and already high construction prices continued to increase.
Robby Cluyssen recalled that for each percentage increase on interest rates, there is a loss of purchasing power of about 10%. He described this as a "big issue" since negotiating prices is not common in Luxembourg and demand is "really high". And yet, many people were unable to take out a housing loan. In addition to rising interest rates, there was the uncertainty surrounding the future of construction companies amid the economic crisis and construction prices. All this uncertainty resulted in fewer property sales. Whilst this might result in a drop in prices elsewhere, this is not the case in Luxembourg; Robby Cluyssen explained that there is huge demand (in part due to Luxembourg's population growth) paired with a shortage of housing in the Grand Duchy.
2022 still saw an increase of about 6% in the prices of properties for sale in Luxembourg, with double-digit growth observed outside of the capital, particularly in the north and the east of the country. Robby Cluyssen noted that there had been a shift in the needs of buyers since 2020, amid the COVID-19-pandemic and related growth of teleworking, with an increasing number of people opting to move further away from Luxembourg City to a more spacious property for a lower price. He added that mobility was a key factor in this. Conversely, the capital lagged behind, he noted, adding that in the past, "prices rose too much, too quickly […] and yields dropped immensely".
Robby Cluyssen assured that this price uncertainty will not last indefinitely. "It's not the end of the world. There will be some kind of stabilisation of prices," he said. Nevertheless, price increases around Luxembourg City should still be expected and, due to high demand, interest rates are unlikely to drop any time soon. Instead, it is important to accept this new reality, "and that needs some time," he acknowledged.
2023 started much as 2022 ended: interest rates remain quite volatile and JLL expects these to continue to rise "on a volatile basis" throughout the year. The first two quarters are expected to be calm, at least in terms of private sales, but could pick up from the third quarter, with investors potentially jumping back into the market; for now, they appear to be taking a wait-and-see approach. Regarding the rental lease reform, investors have been discouraged by the "uncertainties" of the situation, noted Robby Cluyssen.
With interest rates remaining high and prices unlikely to drop, it will be important for the State to step in and offer more financial aid or incentives (for private investors, for example), particularly on the rental market, as well as develop the social housing market, according to Robby Cluyssen. He added that 2023 would be an interesting year in Luxembourg, with two elections coming up, in terms of political decisions in response to these housing issues.
He reiterated: "2022 was a game changer where we saw a shift from a buying market to a rental market." He lamented that there was "too much negative noise" in 2022 and recalled that the current situation will not last forever, but in the meantime, there is a need to "find good solutions, be creative with what we have in front of us [...] in order to come out of this crisis on a better note". He warned, however, that prices are likely to continue to rise in Luxembourg in future. "There's no reason why they should drop," he concluded.