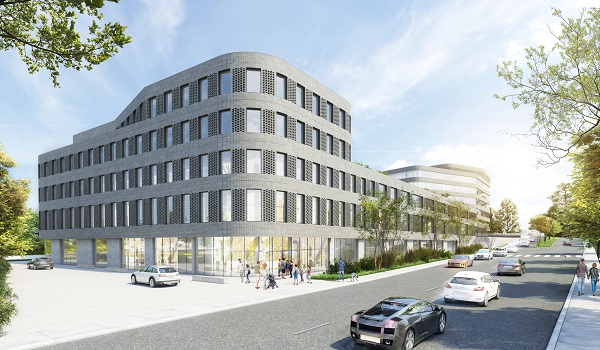 Credit: Landimmo Real Estate
Luxembourg-based Landimmo Real Estate has announced the launch of its Ettelbruck ONE project; completion of the mixed-use building is scheduled for the end of 2023.
Ettelbruck ONE will be built at the southern entrance to Ettelbruck on the one-hectare site of the former Heintz van Landewyck cigarette factory. Among other things, the property will provide workspace for more than 600 office workers. The building is already partially leased to the Luxembourg state, which will establish offices in the Nordstad (a development area grouping the municipalities of Bettendorf, Diekirch, Erpeldange, Ettelbruck and Schieren) there. In addition, a balanced mix of retail, gastronomy, business offices and other services will be sought. Negotiations with potential tenants are also already underway.
Jürgen Primm, Managing Director of Landimmo Real Estate, described Ettelbruck ONE as an exemplary project for his company: "As a member of the Landewyck group, we are, on the one hand, in favour of a long-term development including the notion of sustainability, while demonstrating, on the other hand, our ability as a company to adapt to changes. This mixture of tradition and innovation is reflected in Ettelbruck ONE. While we have been active for decades as one of the largest industrial employers in the region, we are now developing state-of-the-art offices and commercial spaces as a real estate owner. In this way, we as a group fully assume our role as a responsible player who feels concerned by the development of the country and its population".
With Ettelbruck ONE, Landimmo Real Estate is also creating a sustainable pillar of Nordstad, continued Jürgen Primm: "According to the will of the five municipalities concerned and in accordance with the planning of the national territory, Nordstad must become the economic centre of northern Luxembourg. The objective is to create an attractive place here, enjoying a good quality of life". He added that "Ettelbruck ONE combines all the requirements of a modern working environment with the attractiveness of its surrounding region, which is important for businesses".
According to the Mayor of Ettelbruck, Jean-Paul Schaaf, the location of the building designed by the architectural firm Beiler Francois Fritsch also plays an important role in this respect: "Ettelbruck ONE is only a few minutes walk from the Ettelbruck city centre and offers users direct access to the A7 motorway. There is also a bus connection to Ettelbruck train station and cycle paths are in the immediate vicinity. This allows quick, convenient and versatile access to all axes of mobility, which is also important in terms of national mobility planning. We are therefore certain to contribute with Ettelbruck ONE to the sustainable development of Ettelbruck and the whole of Nordstad, in particular by the establishment of sustainable jobs".