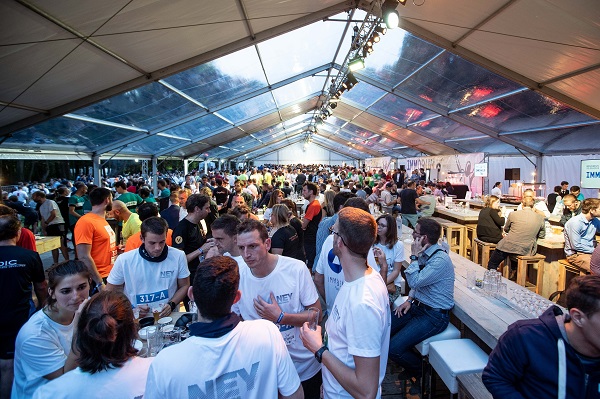 On Wednesday 26 June 2019, IMMOBEL will inaugurate the first edition of the ImmoRun in Luxembourg, on the site of the Kockelscheuer skating rink; this race, for real estate professionals only, is designed to become the B2B, sports and networking event of the real estate community of the country.
The first edition of the ImmoRun has already seen almost a hundred teams register. On 26 June, some 300 runners of all levels from the world of real estate, will line up at the start for the pleasure of putting their team spirit to the test and then sharing a convivial dinner together afterwards. This evening is being organised in partnership with INOWAI Qbuild, Arendt & Medernach, Cegelec, Seco, Indigo, BGL Paribas.
The concept
Consisting of teams of three participants, the runners will cover circuits of 9, 6 and 3 km respectively. As each circuit measures 3 km, the participants will set off one after the other, and will gradually come together to cross the finishing line.
Following this effort and the production of endorphin and dopamine, all the participants will be invited to the prize-giving ceremony, followed by a dinner in a relaxed atmosphere designed to encourage excellent professional contacts.
ImmoRun has already become a success in Brussels
Launched in Brussels 10 years ago, ImmoRun By IMMOBEL has rapidly become a no-to-be missed-gettogether and has established itself as one of the major real estate B2B events in the Belgian capital. Last September, 1,350 runners were on the starting line for the 10th edition.
"The dynamic context of real estate in Luxembourg makes it quite clear that this event which brings people together, had to be extended beyond the border. We are delighted to launch this first edition which, from the very outset, has met with genuine interest everywhere. We hope very quickly to make this event grow" stated Olivier Bastin CEO IMMOBEL Luxembourg.
ImmoRun has chosen to support the Kriibskrank Kanner foundation which helps children suffering from cancer. Running Nation and People first, as co-organisers of the event, will make a donation to Kriibskrank Kanner following each event, of a sum in proportion to the number of participants.
To run, support your colleagues or meet your peers, see http://ImmoRun.lu/
The event opens at 16:00 with the race commencing at 18:00.