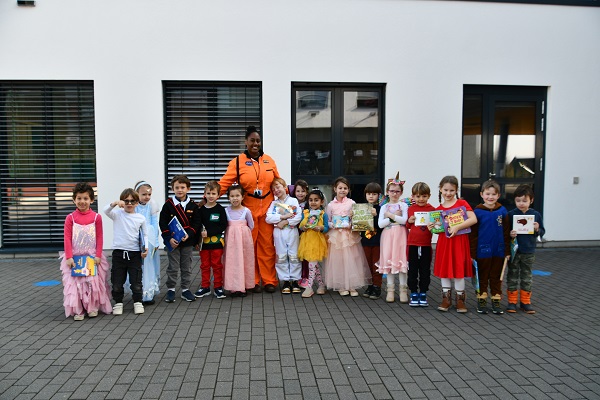 Credit: St George's International School Luxembourg
Pupils at St George's International School Luxembourg celebrated World Book Day this week with surprise visits by various authors, a second-hand book fair and dressing up as their favourite book characters.
World Book Day is celebrated around the world each year on 2 March and is always a big occasion at St George's. This year, pupils attended workshops and assemblies by authors Thomas Schoos (author of local children's book Wooow Luxembourg), Sue Hendra and Paul Linnet (SuperTato), Nick Arnold (Science Horrible) and Agathe Demois (Cache-cache Ville).
Over three days, the pupils participated in activities such as storytelling, story-writing competitions, book-themed treasure hunts, painting book characters and fifteen-minute bursts of reading throughout the day.
St George's Primary English Coordinator, Louise Firth, who organised this year's events, said "Book Week" helped to inspire a lifelong love of reading and diversify the school's English-language curriculum. "The students gain exposure to a variety of new authors, and we are particularly lucky to have Luxembourgish and French authors visit us this year. The students also get to see their teachers as readers," she said.
In addition to the four author visits (twice the usual number), a highlight was the second-hand book fair. "We hope the book fair will help to promote a love of reading and an awareness of recycling," Mrs Firth said. "Books are mirrors, windows and sliding doors. Readers can see themselves reflected in mirrors (books), can view the lives of others (windows), and can be transported to other places (sliding doors)."
Pupils also dressed up as their favourite book characters on World Book Day, which encouraged them to think and talk about books. "Research has shown that children who read for pleasure make more progress in maths, vocabulary and spelling between the ages of ten and sixteen than those who rarely read," Mrs Firth explained. "In addition, children who read books often at the age of ten and more than once a week at the age of sixteen gain higher results in all three tests at age sixteen than those who read less regularly."
"And children who were read to regularly by their parents at age five performed better in all three tests at age sixteen than those who were not helped in this way," she added.