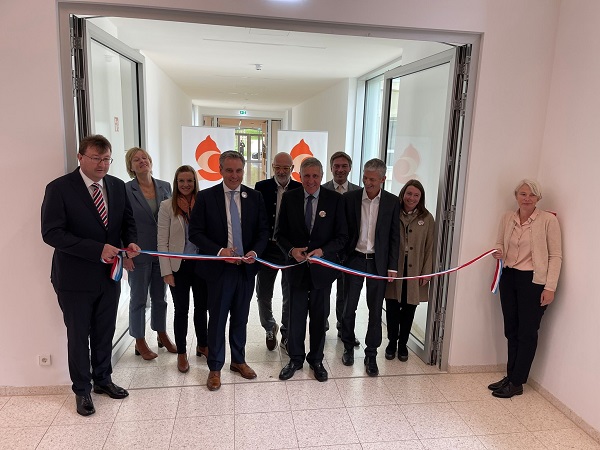 1st row, L-R: Jean-Claude Hemmer, Director of Lycée Michel Rodange; Claude Meisch, Minister of Education, Children & Youth; François Bausch, Deputy PM, Minister for Mobility and Public Works; n/a; Credit: MMTP
Monday 26 September 2022 marked the inauguration of the newly renovated Lycée Michel Rodange in Luxembourg-Hollerich.
Luxembourg's Deputy Prime Minister and Minister for Mobility and Public Works, François Bausch, and the Minister of Education, Children and Youth, Claude Meisch, inaugurated the modernised school on Monday.
To meet all the functionalities and current standards taking into account the increase in the number of students, a complete renovation of the school building was deemed necessary. While respecting the original architecture, such as the typical facade of the 1970s, Lycée Michel Rodange has undergone major extensions, renovations and energy upgrades.
The architectural concept provided for a new extension connected on the same level to the south to the central wing by a footbridge located in the axis of the entrance hall. The old sports hall building has been replaced by a cafeteria, a multi-purpose room and sports halls on the lower floors.
According to the relevant government ministries, the energy concept guarantees reduced energy consumption through efficient insulation of the envelope of the various built bodies. In addition, all the rooms benefit from natural ventilation allowing natural nocturnal cooling which, in combination with solar protection, is designed to prevent overheating in summer.
The extensive green roofs are covered by photovoltaic panels, an educational garden and a flowery lawn.
The overall cost of this project was €64,000,000 (including tax). The commissioning of the building took place in autumn 2021.