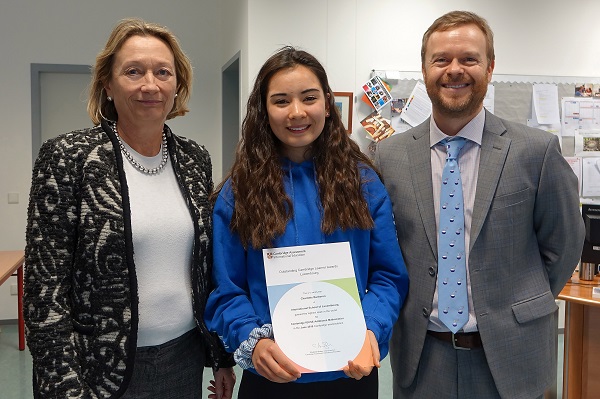 ISL Director Nicki Crush, student Charlotte Barberon and Upper School Principal Iain Fish;
The International School of Luxembourg (ISL) has announced that one of its students has received the Top in World award from Cambridge Assessment International Education for her outstanding performance in the June 2019 Cambridge examination series.
ISL student Charlotte Barberon achieved the highest mark in the world for Cambridge IGCSE Additional Mathematics in the Outstanding Cambridge Learner Awards.
The Outstanding Cambridge Learner Awards programme celebrates the success of learners taking Cambridge examinations in over 40 countries around the world.
ISL Director Nicki Crush said that the award recognised the talent, dedication and commitment of both learners and staff. She commented: "It is extremely rewarding to congratulate Charlotte and her teachers at the International School of Luxembourg who have worked so hard to achieve tremendous success in Cambridge IGCSE Additional Mathematics examinations. The results are a reflection of the enormous talent at ISL not only amongst learners but also within the teaching profession".