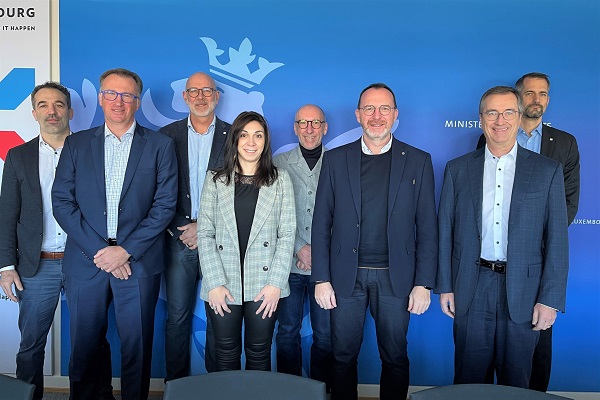 (L-R): Charles Stelmes, MSP; Thierry Wagner, MSP; Vanessa Tarantini, MSP; Michel Knepper, COSL; Minister Georges Engel; André Hoffmann, COSL President; Ralf Lentz, COSL; Credit: MSP
On Monday 19 December 2022, Luxembourg's Ministry of Sports provided details of the meeting between the Minister of Sports, Georges Engel, and the Luxembourg Olympic and Sports Committee (COSL), that was held on Friday 16 December at the National Sports Institute (INS).
Such meetings are held as part of the regular contacts between the public authorities and the sports movement: Minister Engel, accompanied by his close collaborators, had a working meeting with a delegation from the Luxembourg Olympic and Sports Committee, led by its president André Hoffmann.
The meeting covered a number of topics, including the future working relationship between the ministry and the COSL, developments within the COSL and the evolution of the budget for sports for the year 2023 and the years to come.
Minister Engel and COSL officials reaffirmed their firm desire to continue their constructive collaboration in favour of the Luxembourg sports movement.