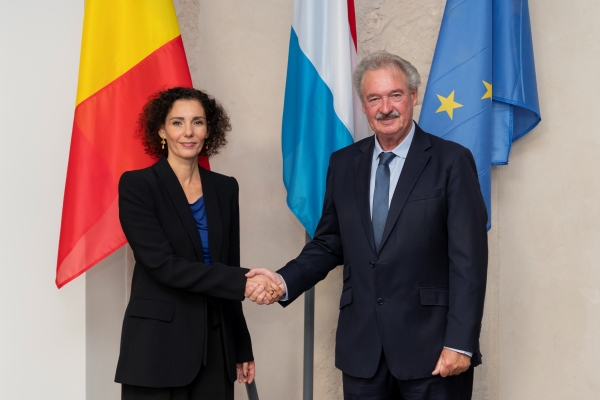 (L-R) Hadja Lahbib, Minister of Foreign Affairs, European Affairs and Foreign Trade, and Federal Cultural Institutions of the Kingdom of Belgium; Jean Asselborn, Minister of Foreign and European Affairs; Credit: SIP / Emmanuel Claude
On Thursday 15 September 2022, Luxembourg's Prime Minister and Minister of State, Xavier Bettel, received the Minister of Foreign Affairs, European Affairs and Foreign Trade of Belgium, Hadja Lahbib, at the Hôtel Saint Maximin.
This first meeting allowed an exchange on the particularly close bilateral relations between Luxembourg and Belgium and to address the major current issues.
The Belgian Foreign Minister was also received by her Luxembourg counterpart, Jean Asselborn, for a working meeting in the Mansfeld building.
The two ministers expressed their satisfaction with the excellent relations existing between the two long-standing partner countries. "Our two countries are united in strengthening the European Union (EU) and in defending common values, including the rule of law, human rights and multilateralism," said Minister Asselborn. He described Belgian-Luxembourg cooperation and solidarity as exemplary in many areas, particularly welcoming the importance of cross-border cooperation, despite the challenges posed by the COVID-19 pandemic. The two ministers affirmed that free movement constitutes a fundamental value of the European Union and Benelux where cross-border living areas are essential for the populations and the economies on both sides of the borders.
In this context, the priorities of the Luxembourg Presidency of the Benelux Union for the year 2022 as well as the opportunities for cooperation with the Greater Region were discussed.
In addition, Minister Asselborn discussed with his Belgian counterpart a number of European issues, including respect for the rule of law within the European Union, the future of the EU, the process of enlargement of EU and EU-UK relations. The discussions once again demonstrated the great convergence of views between Luxembourg and Belgium on these subjects.
During the meeting, the ministers had an in-depth exchange of views on the main issues of international current affairs, including the evolution of Russian military aggression against Ukraine. The ministers discussed the support provided to Ukraine as well as the importance of the implementation of sanctions against Russia.
Moreover, in view of the energy blackmail perpetrated by Russia, Minister Asselborn stressed the need for the European Union to reduce its dependence on all fossil fuels and to deploy renewable energies in an accelerated manner, while carrying out continuous efforts to reduce energy consumption. In this regard, Minister Asselborn took the opportunity to thank his counterpart for Belgium's good cooperation in the energy sector.