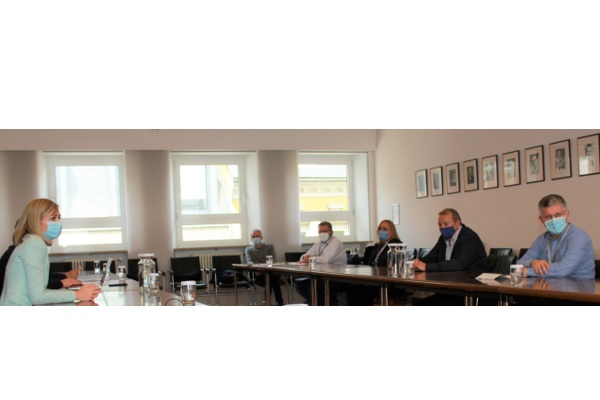 Bous-Waldbredimus merger meeting in May 2021; Credit: MINT
On Wednesday 1 June 2022, the Luxembourg Government Council approved the proposed merger of the municipalities of Bous and Waldbredimus.
Subject to the vote of the bill by the Chamber of Deputies (Luxembourg's parliament), the new municipality of "Bous-Waldbredimus", which will come into being on 1 September 2023, will have its temporary headquarters in Bous (pending the completion of the new municipal house in Waldbredimus ) and will bring the number of Luxembourg municipalities down to 100 (currently there are 102).
The new municipality will have approximately 3,000 residents. The number of municipal councilors will remain fixed at eleven and the college of mayors and aldermen will be composed of one mayor and three aldermen. Each merged municipality will thus be entitled to two members within the college of mayors and aldermen.
During the complete renewal of the municipal councils following the municipal elections of 2029, the composition of the municipal bodies will be brought into line with municipal law. The first municipal council of the municipality of Bous-Waldbredimus will be formed following the municipal elections of 11 June 2023, organised according to the relative majority system.
The merger of the municipalities of Bous and Waldbredimus will be accompanied by special state aid amounting to approximately €6.6 million from the municipal reform fund (Fonds pour la réforme communale), which is supplied by credits entered in the budget of Luxembourg's Ministry of Home Affairs. The special financial aid will be liquidated in installments over a period of five years from 1 September 2023 and is intended to carry out the projects selected in the multi-annual financing plans.
Similarly, the existing municipalities of Grosbous and Wahl are set to become one municipality next year.