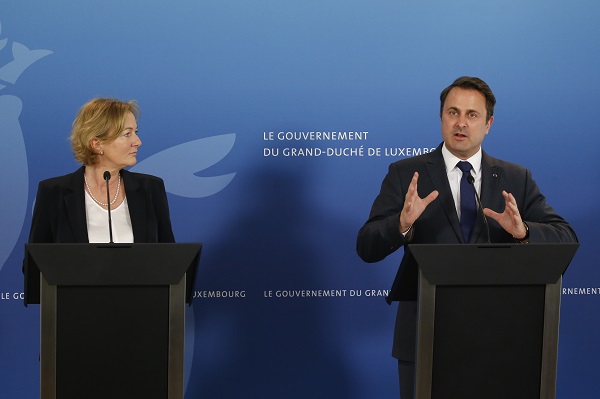 Health Minister Paulette Lenert and Prime Minister Xavier Bettel at a previous press conference; Credit: SIP
At a press conference on Wednesday morning, Luxembourg's Prime Minister Xavier Bettel and the Minister of Health Paulette Lenert announced additional restrictions aimed at curbing the spread of the Omicron COVID-19 variant.
Prime Minister Xavier Bettel noted that everyday we are learning more about this new variant, although we "still do not know everything". According to scientists, Omicron is ten times more contagious than previous variants, with cases expected to double every other day. It is believed that Omicron will soon become the dominant COVID-19 variant in Luxembourg, as elsewhere in Europe.
Whilst it is still too early to say just how dangerous this variant is, it is important to be cautious, according to the Prime Minister. Even if it proves milder than other variants, the more people who get infected, the higher the risk of hospitalisation or death. This could also impact frontline services if healthcare (or other essential) workers become infected and are forced to quarantine, thus unable to work due to the virus.
Consequently, Luxembourg's Government Council has decided that the COVID-19 law must be adapted as soon as possible. A vote is scheduled for Friday, with the additional measures set to enter into force on Christmas Day.
The new measures are aimed at reducing contacts. The hospitality sector will be forced to close by 23:00. The 2G (vaccinated or recovered) CovidCheck system will also be put in place, with people who have not yet received their booster shot required to carry out a rapid test on the spot as an additional safety measures in venues where masks are not worn. The Prime Minister noted that rapid tests have been found to be efficient in detecting Omicron, as well as other variants.
The 2G system will also apply to gatherings of more than ten people, while groups of over 20 people must follow 2G+ rules, i.e. taking a test, wearing masks and keeping an interpersonal distance of two metres. Gatherings of over 200 people will be able to take place only with prior authorisation of the Ministry of Health.
In schools, pupils and teachers will once again be required to wear masks.
Moreover, all children over the age of five will have the chance to get vaccinated.
The Prime Minister added that the government has purchased an additional 7.5 million rapid tests.
Whilst the current COVID-19 law is set to remain in place until 28 February 2022, the government will meet again in January to determine if the measures need to be adapted again.
In light of the new measures, the government will once again offer financial support to companies whose activities are impacted by the restrictions. This financial aid will take the same form as that offered last winter.
Luxembourg's Prime Minister urged everyone to pay attention and look after their loved ones this festive season. He lamented that Omicron has arrived in time for the Christmas holidays. He encouraged everyone to carry out rapid tests before meeting with elderly or vulnerable family members.
Health Minister Paulette Lenert regretted that the crisis "is far from over". She recalled the importance of getting vaccinated, even among those who have recovered from COVID-19, noting that without vaccines, we would be in a "catastrophic" situation. She added that people who have been recently vaccinated or received their booster shot are relatively well protected (70%) against the Omicron variant.
The Health Minister outlined the main priorities for the coming days and weeks: protecting vulnerable people by being careful, wearing masks, etc.; getting vaccinated or getting the booster shot; testing regularly.
She emphasised the need to slow down the spread of the virus, urging people to reduce or avoid contact this festive season. This is in all our interests but particularly in the interest of the healthcare system, she added.
Minister Lenert concluded with a call for solidarity, as we can only manage the crisis if we work together.