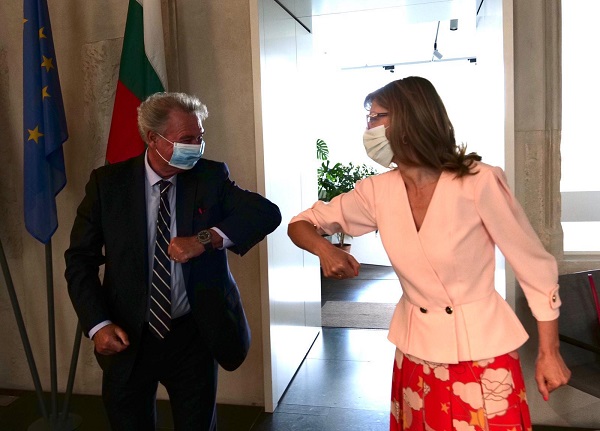 L-R: Jean Asselborn, Luxembourg's Minister of Foreign and European Affairs; Ekaterina Zaharieva, Bulgaria's Deputy PM, Minister for Foreign Affairs; Credit: MAEE
Luxembourg's Minister of Foreign and European Affairs, Jean Asselborn, received yesterday Ekaterina Zaharieva, Bulgaria's Deputy Prime Minister and Minister for Foreign Affairs for a working visit.
On this occasion, the ministers had a bilateral meeting at the Ministry of Foreign and European Affairs, followed by a working lunch. The working visit, which was originally scheduled for 16 March 2020 and which was postponed due to the health crisis, was an opportunity to take stock of bilateral relations between Luxembourg and Bulgaria as well as to exchange views on several subjects of common interest, in particular with regard to European matters.
The two foreign ministers exchanged views on the quality and prospects for developing bilateral relations, particularly in the economic and financial field, but also in other sectors such as tourism.
Subsequently, Ministers Asselborn and Zaharieva had an in-depth exchange of views on several European issues, such as the multiannual financial framework (MFF), the "Next Generation EU" recovery plan, the consequences of the COVID-19 crisis, the Green Deal and the Conference on the Future of the EU.
In the context of negotiations on the MFF and the recovery plan, Minister Jean Asselborn stressed that Luxembourg supports the European Commission's proposals. He stated: "The EU member states that have suffered the greatest impact during the current crisis should receive the greatest support". At the same time, the future MFF and the recovery plan are an opportunity to advance the ecological and digital transformations.
Discussions also included an exchange of views on the process of enlargement of the EU and the political situation in the Western Balkans.
The foreign ministers proceeded to review several international issues, including the EU's relations with Turkey and with China and the Middle East peace process. Both ministers notably discussed possible EU responses to an annexation of parts of the West Bank by Israel.
Subsequently, Minister Ekaterina Zaharieva met with Luxembourg's Prime Minister Xavier Bettel at the Ministry of State for a tête-à-tête, during which they exchanged on European current affairs.