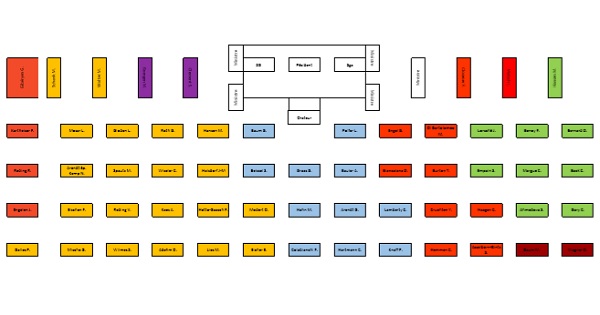 Luxembourg Parliament's seating plan at Cercle Cité;
.The Chambre des Députés (Luxembourg's parliament) is set to move temporarily to the nearby Cercle Cité in Luxembourg's city centre; this move is a result of the COVID-19 pandemic and social distancing measures that must be respected, with the permanent parliament building not sufficient regarding this.
The Ville de Luxembourg has made its Cercle Municipal premises available to the Chamber of Deputies to guarantee the functioning of the Luxembourg parliament and legislative work while respecting the health constraints decreed by the Government.
As a result, from tomorrow, Friday 17 April 2020, the parliament will sit at the Cercle Cité on Place d'Armes, in the historic building built by architects Pierre and Paul Funck between 1904 and 1909 whose initial objective was to serve as a meeting place for cultural events. However, from 1953 to 1969, the 500 m2 large hall of the Cercle Municipal was transformed into an administrative and political centre, when the ECSC (European Coal and Steel Community) sat there.
Parliament will sit for the first time in public session at the Cercle Cité tomorrow, Friday 17 April at 14:00. The public session will be broadcast live on Chamber TV and streamed on the www.chd.lu website. Members of the public will not be admitted.
It is not the first time that the Ville de Luxembourg has hosted the Chamber of Deputies. Previously, during the renovation of the buildings of the Chamber of Deputies in rue du Marché-aux-Herbes between 1997 and 1999, parliament met in the hall of the Municipal Council at the Town Hall (Hotel de Ville) on place Guillaume II.