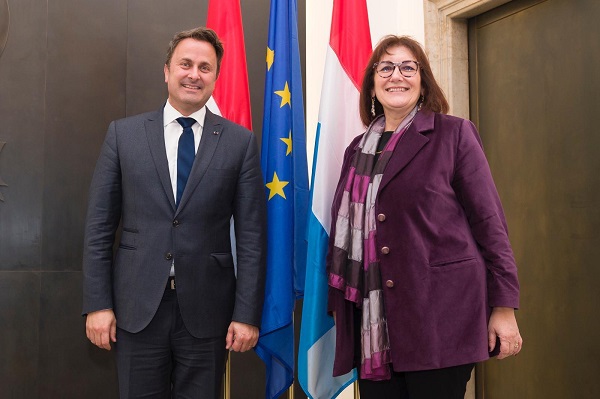 L-R: Luxembourg Prime Minister Xavier Bettel; Dubravka Šuica, Vice President of the European Commission; Credit: SIP / Jean-Christophe Verhaegen
On Wednesday 11 March 2020, Dubravka Šuica, Vice President of the European Commission and European Union (EU) Commissioner for Democracy and Demography, undertook a working visit to Luxembourg.
As part of this working visit Luxembourg's Minister of Foreign and European Affairs, Jean Asselborn, hosted Vice President Dubravka Šuica for an interview in the Mansfeld building in Luxembourg-Ville.
At the centre of discussions was the preparation of the Conference on the Future of Europe, for which Dubravka Šuica is responsible. Recalling that the Luxembourg government is committed to intensifying the EU debate with citizens and civil society, Minister Asselborn stressed the open, inclusive and transparent nature of the conference.
Indeed, in Luxembourg, the conference will be based on citizen consultations, while introducing certain new elements proposed by the European Commission to offer citizens greater means to shape the future of Europe. Minister Asselborn stated: "I welcome the Commission's intention to significantly strengthen its awareness-raising action among European citizens".
The two parties exchanged views on the multilingual digital platform aimed at providing easy access to the conference, as well as resources which can be made available for the organisation of the conference in Luxembourg.
Vice President Dubravka Šuica then met with Luxembourg's Prime Minister Xavier Bettel at the Ministry of State. Discussions again focussed mainly on the subject of the Conference on the Future of Europe.
Xavier Bettel explained: "Luxembourg supports this initiative because we believe that citizens should be more involved in political debates on Europe. It is important to set realistic goals for this exercise, as citizens will demand concrete results from this conference. We are working closely with other Member States on this subject, in particular with our partners in the Benelux, and believe that close cooperation between the institutions is of the utmost importance for this conference to be a success".