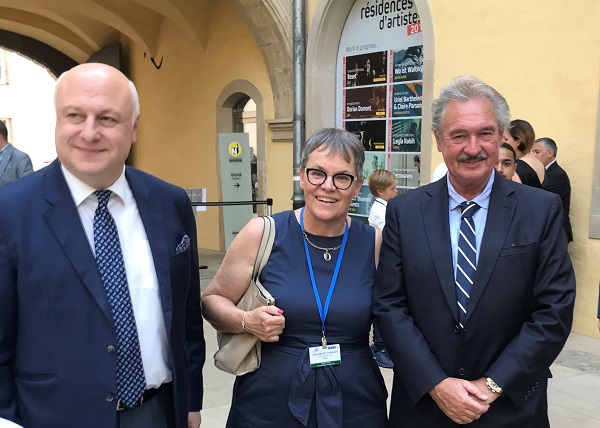 L-R: George Tsereteli, President of the OSCE Parliamentary Assembly; Liliane Maury Pasquier, President of the Parliamentary Assembly of the Council of Europe (PACE); Jean Asselborn, Luxembourg Minister of Foreign and European Affairs; Credit: MAEE
From 4 to 8 July 2019, Luxembourg hosted for the first time the annual session of the Parliamentary Assembly of the Organisation for Security and Cooperation in Europe (OSCE).
On the occasion of this 28th annual session, centred around the theme of security and sustainable development, Luxembourg Minister of Foreign and European Affairs Jean Asselborn met with members of the OSCE at a reception held on Saturday evening at Neumünster Abbey.
The event brought together guests from more than 50 countries across four continents. During his speech, Minister Asselborn referred to this diversity as "a testimony to our determination to work together for our common security".
Indeed, Jean Asselborn's speech addressed the main challenges facing the OSCE, as well as security-related issues in Europe and the future role of the organisation in a changing multilateral environment. In this context, the Foreign Minister emphasised the importance of cooperation: "Only by working together, by rediscovering the spirit of solidarity that marked the end of the Cold War and brought the Eastern and Western parts of Europe closer together, will we succeed in making Europe safer, more stable and more prosperous".
Referring to the subject of sustainable development, Minister Asselborn maintained: "We cannot enjoy sustainable peace without sustainable development, and there can be no sustainable development without peace and security". He added that "effective multilateralism" was key to "achiev[ing] sustainable security".
Speaking of modern-day conflict in Europe, the Luxembourg Foreign Minister highlighted the examples of the Donbass, Nagorno-Karabakh, South Ossetia, Abkhazia and Transnistria regions, which "continue to pose a serious challenge to peace, security and, of course, to sustainable development". Regarding Donbass, Minister Asselborn commended the efforts of the OSCE in trying to resolve conflict in Ukraine and emphasised the responsibility of all members to "fully implement the Minsk Agreements".
Jean Asselborn continued by highlighting the discrimination that persists in the OSCE area as a result of rising nationalism and xenophobia. To this he added: "We must take a firm stand against those nationalist and racist tendencies". Likewise, Minister Asselborn condemned the increasing number of "violations of press freedom".
He concluded his speech by highlighting Luxembourg's contribution to security in Europe, adding that he hoped that "the Luxembourg spirit of dialogue, openness, tolerance and mutual respect" would inspire the guests.