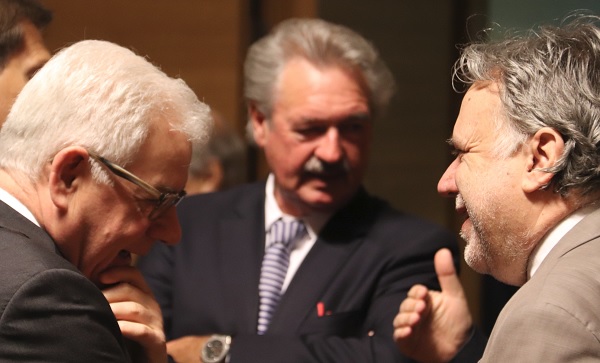 L-R: Witold Jan Waszczykowski, Minister of Foreign Affairs of the Republic of Poland; Jean Asselborn, Luxembourg Minister of Foreign and European Affairs; George Katrougalos, Minister of Foreign Affairs of the Hellenic Republic; Credit: MAEE
The Foreign Affairs Council of the European Union, held on Monday in Luxembourg, brought together ministers to discuss, among other things, the situations in Libya, Afghanistan and Venezuela.
The Council began its session with a review of pressing issues on the international agenda. Representing Luxembourg, Minister of Foreign and European Affairs Jean Asselborn reiterated his support for Ghassan Salamé, the UN Secretary-General's special representative for Libya. He argued that, in a particularly difficult context due to rising tensions in recent days, the EU and its Member States should support the efforts of Ghassan Salamé and the United Nations, aimed at reconciliation and reconstruction in Libya.
The Foreign Affairs Ministers then turned their attention to the situation in Afghanistan, particularly in the context of the ongoing peace negotiations between the United States, the Taliban and the Afghan Government and efforts to find a lasting political solution to the situation that can benefit the entire Afghan society. Reporting on his visit to Afghanistan, Mazar-i-Sharif and Kabul a month ago, Minister Asselborn returned to talks with President Ashraf Ghani and his counterpart Salahuddin Rabbani, with whom he discussed the security situation and the ongoing peace process, with the goal of holding fair and credible elections next September.
The Council then held an exchange of views on the Eastern Partnership in view of the partnership ministerial meeting to be held in Brussels on 13 May. In this context, the ministers discussed the future of the Eastern Partnership and examined the implementation of the 20 key areas planned for 2020.
During the luncheon, the Foreign Ministers discussed the situation in Venezuela, in light of the second ministerial meeting of the international contact group which was held on 28 March in Quito, Ecuador. The international contact group, the only international initiative that has a dialogue with both parties in Venezuela, aims to contribute to the creation of the necessary conditions for the emergence of a political and peaceful process to allow the citizens of Venezuela to decide their own future, by holding free, transparent and credible elections, in accordance with the Constitution of the country. Luxembourg remains deeply concerned about the use of repression against the population and the deterioration of the humanitarian situation in recent months, which is why the EU and its Member States have, according to Minister Asselborn, a responsibility to help the many who have fled Venezuela and find themselves, mostly destitute, in neighbouring countries.
In the margins of the Council, Minister Asselborn had a bilateral meeting with the Deputy Minister for European and American Affairs, Sir Alan Duncan, to discuss the latest developments in the context of Brexit.