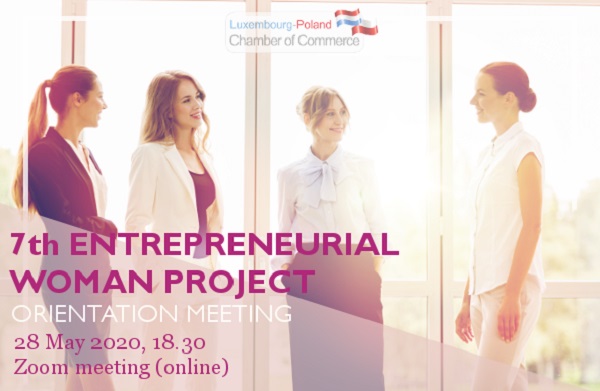 The Luxembourg-Poland Chamber of Commerce (LPCC) has announced the 7th edition of the Entrepreneurial Women Project (EWP), a series of workshops for aspiring female entrepreneurs of all nationalities in the Grand Duchy.
This project consists of over 45 hours of lectures, given in English, and hands-on activities with highly regarded trainers from global consulting and legal advisory companies. The workshops are held in autumn over six consecutive Saturdays in Luxembourg City.
The Orientation Online Meeting for this year's EWP will be held via Zoom on Thursday 28 May 2020 at 18:30. On this occasion, participants will have the opportunity to meet Aleksandra Wrobel, the EWP Project Leader, as well as one of the trainers Laure Chemla, counsel at CMS, and Sofie Verstraeten, last year's participant, founder of the Fitness Dionysos and the second prize winner for the Best Business Idea Presentation.
To register for the Orientation Meetup, visit the LPCC website at www.lpcc.lu or follow the link: https://docs.google.com/forms/d/1awWCGfzdGindCtUirgzT5qJq1hQEvuigmdNMBG30hBE/viewform?edit_requested=true.
Over the years, the EWP has trained more than 200 creative ladies from over 50 countries. Between three and seven new businesses are launched each year as a result of the project. Launched by the LPCC in 2014, the course is organised under the patronage of Luxembourg'es Ministry of Economy, the Polish Embassy in Luxembourg and the Luxembourgish Embassy in Poland as well with the support of sponsors including Arendt&Medernach, ATOZ Tax Advisers, Irish Chamber of Commerce and many more.
The total participant cost of the project is €150 for LPCC members and €195 for non-members.
Upon successful completion of the programme all participants receive their diplomas and the winners of the Best Business Idea Presentation are announced during the Grand Finale at Arendt House in Luxembourg-Kirchberg. In 2019, the winners were awarded the following prize values offered by the sponsors: 1st Prize - €3,000; 2nd Prize - €2,000; 3rd Prize - €1,000.