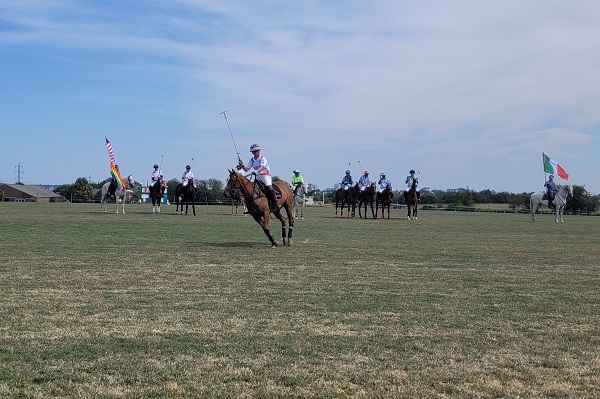 Credit: Jazmin Campbell/Chronicle.lu
The tenth anniversary edition of the BARNES Luxembourg Polo International Tournament, organised by the Polo Club Luxembourg, kicked off on the afternoon of Friday 7 July 2023 at the Écurie de la Pétrusse in Luxembourg-Merl; the tournament and related celebrations will continue throughout the weekend (7-9 July).
The first day on the field was a rather intimate gathering, with a smaller (but lively) group of people joining under the hot afternoon sun to watch the qualifying games and enjoy food and drinks and other entertainment. A significantly larger crowd (approximately 1,000 people) is expected on the field on Saturday (set to be another very warm day), which will see the teams compete for the Integra Smile Cup. On Sunday, they will compete in the finals for the Coupe de Luxmebourg - Birger Strom and the Barnes Cup.
Six teams are competing in this year's tournament: Barnes International Realty (France), Integra Smile (US), Augustinus Bader (Argentina), CDCL (Luxembourg), Vauban Patrimoine (Germany) and Pom'potes (Italy). This year marks the first time that a team from the United States is playing, and it is doing so under the rainbow colours in solidarity with the LGBTIQ+ community.
There are three polo games scheduled per day, between 14:00 and 17:30, accompanied by refreshments, entertainment (on Friday, there was a saxophonist, for example) and artworks by Ukraine-born Luxembourg-based artist and photographer Tanita Popyk. Attendees on the first day could also admire an exhibition of luxury cars.
With this year's tournament supporting the LGBTIQ+ cause, Rosa Lëtzebuerg asbl President Tom Hecker was invited to throw the ball at the start of one of the games on Friday. Other special guests are set to make an appearance throughout the weekend.
Tom Hecker was also among the many guests in attendance at the Pink & White Polo Gala Dinner at Comé à la Maison in Luxembourg-Hollerich on Friday evening. Polo players, sponsors, partners and other guests dressed up in their best pink and/or white outfits and accessories for an evening of live entertainment (DJ set, violin solos, drag performances, ballerinas elegantly dancing around and between rooms at the venue) over food and drinks (an apéritif and amuse-bouche on the terrace before moving inside - via the red carpet - for a four-course meal).
On Saturday evening, an Aperinetwork music night and BBQ dinner are on the agenda.
Further information about this tournament, described by the organisers as a "Country Summer Polo Rendez-Vous", is available on the Polo Club Luxembourg website: https://poloclubluxembourg.com/10-th-luxembourg-polo-international-tournament/.