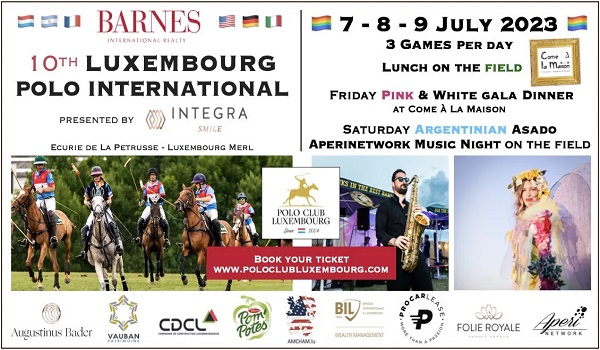 The BARNES Luxembourg Polo International, organised by the Polo Club Luxembourg, will celebrate its tenth anniversary with a "Country Summer Polo Rendez-Vous" tournament at the Écurie de la Pétrusse (66 Rue des Celtes) in Luxembourg-Merl from Friday 7 to Sunday 9 July 2023.
This tournament, for which Chronicle.lu is a media partner, will bring together six teams, supported by their patrons, to play three games per day. This year's teams are Barnes International Realty (France), Integra Smile (US), Augustinus Bader (Argentina), CDCL (Luxembourg), Vauban Patrimoine (Germany) and Pom'potes (Italy). 24 players of some ten nationalities make up these six teams and with around 100 horses, they will compete on the polo field to win trophies.
The Polo Club Luxembourg has chosen to support the LGBTIQ+ cause this year (having supported Ukraine in 2022). This year thus marks the first time that an American team, captained by the President of the Gay Polo League and supported by the American Chamber of Commerce in Luxembourg (AMCHAM), will play under the colours of the rainbow - a symbol of LGBTIQ+ pride and social movements. Proceeds from the online and on-site sale of "One Love Goodies" will be donated to local LGBTIQ+ organisation Rosa Lëtzebuerg asbl. The polo tournament also forms part of this year's Luxembourg Pride programme.
The qualifying matches are scheduled to take place on Friday 7 July 2023 and the teams will then compete in the Integra Smile Cup on Saturday 8 July 2023. At the end of the grand final on Sunday 9 July 2023, the winners will receive the Coupe de Luxembourg - Birger Strom and the Barnes Cup. The best player of the tournament will receive the AMCHAM Luxembourg Trophy. Various activities are planned before and after the matches, including a horse show, a vintage car parade, a hat's stroll, children's games, live music and other performances.
On the Friday evening, Come à la Maison in Luxembourg-Hollerich will host a Pink & White Polo Gala Dinner, featuring food, drinks, music and artistic performances. Places are limited. To reserve a spot, visit the website below. On the Saturday evening, an Aperinetwork music night and BBQ will take place on the polo field from 18:00. For bookings, see below.
Tickets to attend the tournament/public area cost €25 per person per day (parking and one drink included) if pre-booked online; tickets cost €30 per person per day if purchased on site on the days of the tournament. Details about the VIP Area Pass are available on the website.
For further information and online booking, visit: https://poloclubluxembourg.com/10-th-luxembourg-polo-international-tournament/.