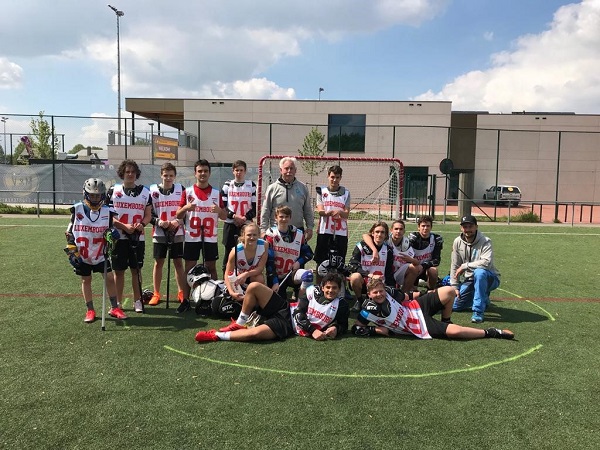 Lycée Guillaume Kroll team after winning youth tournament in Machelen, Belgium in May 2019.; Credit: Luxembourg Lacrosse
The Luxembourg Lacrosse federation has been granted access to funds to develop lacrosse as a sport at grassroots level with educational institutions in the Grand Duchy.
World Lacrosse announced over $190,000 in grants to 24 of its national governing bodies, including Luxembourg Lacrosse. In the Grand Duchy, the funds will be used to introduce the sport to students in multiple schools and train Physical Education (PE) teachers across schools so that they can teach lacrosse further.
Lacrosse in Luxembourg has seen significant growth in the past four years. Today both women and men teams exist - the Black Lynx and Blacksmiths respectively - which compete in the Belgian Lacrosse league. At youth level, three schools have already introduced lacrosse in their PE curriculum with coaching support and material donations from Luxembourg Lacrosse. Indeed, Lycée Guillaume Kroll from Esch-sur-Alzette participated and won their first youth tournament in Machelen, Belgium in 2019 competing with other Belgian youth teams. With the grants, goal is to further establish lacrosse in Luxembourg, by reaching more schools, and tp develop the sport at grassroots level leading to the creation of new clubs in the region.
The men's national team is preparing for the European Championships to be held in Wroclaw, Poland in July 2021.
"These grants will help us introduce more players to the fastest game on two feet," said Henning Schmidt, Sport Development Director of Luxembourg Lacrosse. "We will be able to educate more new coaches, teach new players and elevate the level of play in our region".
Schools and PE teachers are encouraged to contact Henning Schmidt via email: schmidt@lacrosse.lu. Interested adult players who would like to learn lacrosse or play at club or national level should also get in touch.