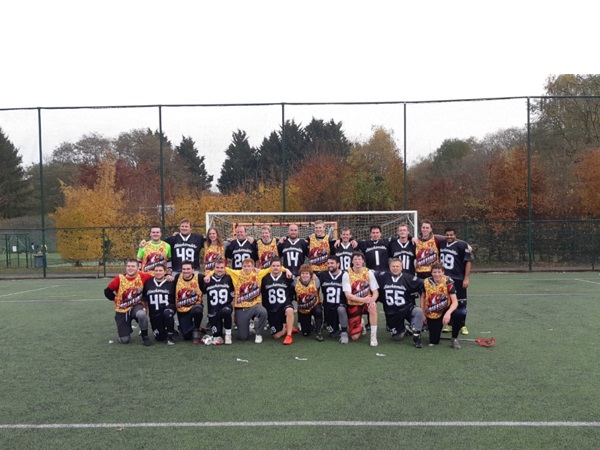 Blacksmiths vs Griffins; Credit: Luxembourg Lacrosse
The Luxembourg men's lacrosse team, the Blacksmiths, played their last game of the 2019 season of the Belgian Lacrosse League on Sunday.
On this occasion, the Luxembourg Blacksmiths went up against the Griffins, a new team from Brussels sporting several Belgian international players as well as promising younger players. The Blacksmiths entered the game with a record two wins and one loss under their belts but ultimately failed to secure a three-win streak.
According to Coach Henning Schmidt, who reported on the game, the Luxembourg team had to adjust for the absences of several key players including president P. Bingen, face-off specialist S. Salvatore and trust midfielders O. Griebel and M. Salvia. This also meant the Coach Schmidt would play in a roster of thirteen players. Defender G. Ritts played his first game following an injury.
Coach Schmidt commented on the roster: "A different team does not mean we have a reason for this loss. We had the potential but did not execute well enough". He recalled that Luxembourg got off to a good start, taking several leads and eventually producing a three goal lead to 5-2 early in the second quarter.
The Griffins then began some offensive and defensive adjustments and were rewarded with three fast goals, entering the second half with a 6-5 lead on the back of three consecutive goals by O. Thomasson. As reported by Coach Schmidt, Luxembourg's defence had managed to contain the Griffins main scoring threat but faced prolonged defensive spells against a Griffins side that exploited small gaps in the otherwise effective Luxembourgish defence.
Throughout the game, the Blacksmiths were reportedly unable to capitalise on the team's eventual most valuable player's (MVP) strong performance at the face-off where midfielder K. Giovagnoli stood in for S. Salvatore and won most one-on-one situations. Coach Schmidt added that persistent play by the Griffins often forced players like midfield/attack hybrid D. Seuchter to win a large number of heavily contested ground balls- something which proved challenging for Luxembourg throughout the second half.
The third quarter started badly for Luxembourg who looked to repeat their early start from the beginning of the game but found themselves ambushed by two goals by G. Lens and O. Thomasson who scored a total of six goals. At 8-5, Coach Schmidt called time out and reset the team, putting the focus on stemming the offensive tide first to then cut and eventually overcome the deficit.
The Griffins' next offensive possessions of several minutes tested the Blacksmiths' defence but a disciplined approach of the defensive line (C. Forbes, J. Kirch and N. Haria) in front of goalkeeper K. Brillen was enough to avoid an even worse deficit. K. Giovagnoli and R. Jegen went on to close the deficit to 8-7 with one goal each.
Nevertheless, the Griffins secured four further goals, whilst Luxembourg managed to score just one more, leaving the final score 12-8.
Coach Schmidt commented on the result: "Losing is never fun, in particular where we had shown that there is more to us than travelling to away games and always lose. The Griffins showed us what we lacked in their clinical finish, strong ground ball player and much better consistency in most categories. Saying that – a 2-2 record, rank 3 and much improved goal differences is more than we would have dared to hope for as a December 2019 interim result".
The Blacksmiths will now enter their next preparation cycle for their games in early 2020. Attack captain A. Robillard commented: "We know that if we fix a few small things well, we can become much better". Coach Schmidt added: "We are not done. We look up in the table, clearly targeting Opueye Foxes and Ixelles Griffins for wins on top of repeating the past wins. If we do our homework, we can do it. Griffins gave us a good lesson in how to come back from a deficit and then win it. We will be ready".
For further information about Luxembourg Lacrosse, contact Coach Schmidt via email: schmidt@lacrosse.lu.