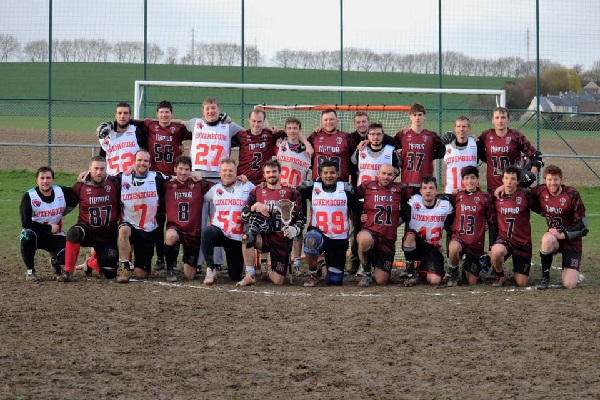 The Blacksmiths and Namur rivals, the Knights,; Credit: Luxembourg Lacrosse
The Luxembourg men's lacrosse team, the Blacksmiths, have recruited two British coaches specialising in team offence, speed and agility and mental preparation.
As the new season kicks off, the Blacksmiths are employing the skills of British coaches Hatton and Rose to help the team perform better. Coaches Hatton and Rose come from prestigious backgrounds in lacrosse, rugby and weightlifting. Local coach Henning Schmidt commented: "We had plans in place to learn some more about how to play better more often and this is a big part of our preparation".
Both club teams, the Blacksmiths (Men) and the Black Lynx (Women), also took part in the BeActive night on Saturday 28 September, showcasing the game to a wider audience over the day at the field in Cessange. For Henning Schmidt and Martina McPherson, the women's team coach, this is a big opportunity: "Showing the fastest game on two feet to a large audience is great. We always look for new players and this time we hope to find extra players for our U18 practices on Friday nights". Although the weather was less than ideal, Luxembourg Lacrosse considered their second participation at BeActive a success.
In addition, following an increase in interest for junior lacrosse, the Blacksmiths have launched a dedicated juniors' practice for all players under 18, boys and girls, on Fridays at Terrains de Sports Boy Kohnen in Cessange. Lycée Guillaume Kroll (Esch-sur-Alzette) had already competed and succeeded in a tournament in Belgium earlier in 2019, sparking the plan to offer youth lacrosse in the Grand Duchy's capital. Parents and players alike can contact coach Schmidt for further information via email at schmidt@lacrosse.lu. A special beginners practice for players of all ages and skill levels will also be organised on Friday 18 October at 19:30 at the same location.
Moreover, the Blacksmiths will play their first home game of this season against rivals from Namur, the Knights, at 14:30 on Sunday 13 October 2019 on the rugby pitch of Terrains de Sport Boy Kohnen. After last season's losses against the Knights (5:9, 5:15 and 1:20), the Blacksmiths hope to revert this trend with new recruits in defence, Andrew Robillard and Cory Forbes, and a well-prepared team. The Blacksmiths will play in their new jerseys, sponsored by The Black Stuff pub and real estate company SAPIA.