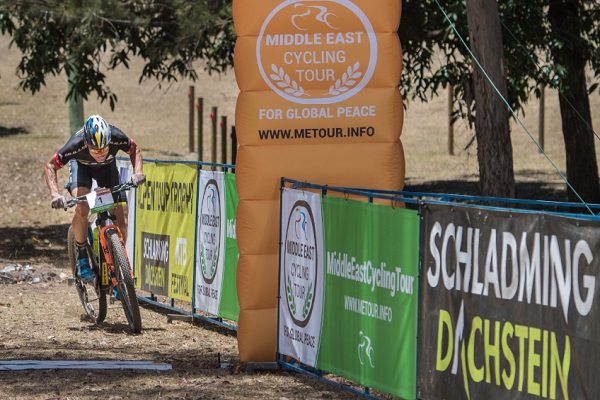 Urs Huber crossing the finish line as the new overall leader in Irvinebank; Credit: Igor Schifris
Swiss mountain biker Urs Huber and Australian competitor Sarah White took over the elite leads with stage victory's in today's time trial during the Crocodile Trophy in North Queensland, Australia.
The multiple Swiss National Champion and four-time Crocodile Trophy winner Urs Huber claimed today's stage with a time of 01:23:49, thus taking over the overall lead by 01:11 minutes in the men's race. Likwise, 2015 winner Sarah White took over the women's lead after a strong 2-hour race. Lucy Coldwell is now in second with a gap of 01:53 minute overall.

Of Urs Huber fellow competitors said that he had been a "man on a mission" and "hungry for the win" on the 38 km time trial course from Herberton to Irvinebank. With an elevation change of only 525 metres it was a fast and determined race by Huber and it all went to plan for the 33-year old. Shortly behind in second place was fellow Swiss elite mountain biker Konny Looser who won two stages this year already.
In the women's race, Sarah White overtook fellow Australian, Lucy Coldwell, when the latter lost a lot of time repairng a flat tyre. White pushed herself into the overall women's lead by 01:53 minutes ahead of tomorrow's fifth stage/
Skybury Coffee Plantation will host the Crocodile Trophy for two nights from tomorrow after a 95km and 1200vm marathon via some old mining trails near Stannery Hill.