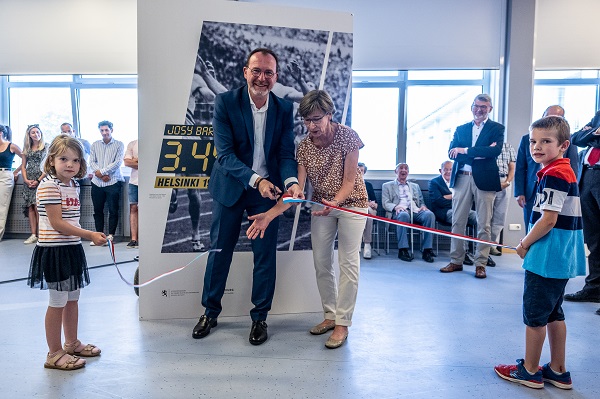 (Above) Sports Minister Georges Engel and Danielle Barthel, daughter of Josy Barthel, inaugurate the exhibition; (below) Bob Bertemes, Charel Grethen and Minister Engel at the "Critérium Josy Barthel" event; Credit: MSP
A new exhibition dedicated to the 70th anniversary of Luxembourg athlete Josy Barthel's victory at the 1952 Summer Olympics in Helsinki, Finland, is now open to the public at the National Sports Institute (Institut national des sports - INS).
On Tuesday 26 July 2022, Luxembourg's Ministry of Sport, in collaboration with the Luxembourg Athletics Federation (Fédération Luxembourgeoise d'Athlétisme - FLA), commemorated this memorable moment in Luxembourg's sports history with the inauguration of the "Josy Barthel – 3.45.2 Helsinki 1952" exhibition, in the presence of the late athlete's family.
Following this inauguration, Luxembourg's Minister of Sport, Georges Engel, took part in a sporting event called "Critérium Josy Barthel", in the presence of Charles Grethen, Olympic finalist in the men's 1,500m at the 2020 Tokyo Olympics, fellow Luxembourg Olympic athlete Charline Mathias and other current and former Luxembourg middle-distance runners.
Members of the public can visit the "Josy Barthel – 3.45.2 Helsinki 1952" exhibition until Friday 12 August 2022 at INS − Fetschenhaff hall (66 Rue de Trèves, L-2630 Luxembourg), Monday to Friday from 10:00 to 17:00. Entry is free.