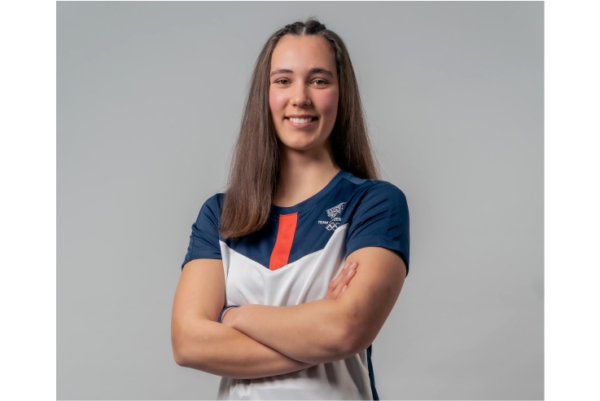 Gwyneth Ten Raa; Credit: Luxembourg's Olympic and Sports Committee (COSL)
On Wednesday 9 February 2022, Luxembourg's Gwyneth Ten Raa recorded her second DNF (Did Not Finish) of the week, in the first run of the Women's Slalom, an Alpine skiing event at the 2022 Winter Olympics currently underway in Beijing.
The event took place at the "Ice River" course on Yanqing National Alpine Skiing Centre, north of Beijing, with start and finish altitudes of 1,712 m and 1,501 m respectively, amounting to 211 m vertical drop, with 65 gates and 64 turning gates. 30 out of a total of 88 competitors (representing 51 countries) could not finish the course and were classified as DNF.
As a result of the DNF, Gwyneth Ten Raa was therefore ruled out of the second run, where the podium places for Women's Slalom were decided and leaving the Luxembourg competitor without any ranking in this event. Just 58 competitors took part in the 2nd run in which eight competitors did not finish.
Mikaela Shiffrin from United Sates, favourite for the Slalom event and double Olympic alpine ski champion, also crashed out after just four gates in the first run, making an incomplete first run, as she did during the Women's Giant Slalom event two days earlier. Gwyneth Ten Raa also could not finish her first run during the Women's Giant Slalom event.
After the second run, the podium finishes for the women's Slalom, 2022 Winter Olympic Games were as follows:
Petra Vlhová (Slovakia) – Gold
Katharina Liensberger (Austria) – Silver
Wendy Holdener (Switzerland) - Bronze
Petra Vlhová also won Slalom Gold a decade earlier, in the 2012 Winter Youth Olympic Games.
With 59.94 and 54.42 FIS points in Slalom and Giant Slalom events in the season, Gwyneth Ten Raa currently holds the global ranking of 712 and 686 in the respective events.
In the next Olympic event for Luxembourg competitors, Matthieu Osch will represent the Grand Duchy in the Men's Giant Slalom on Sunday 13 February 2022.