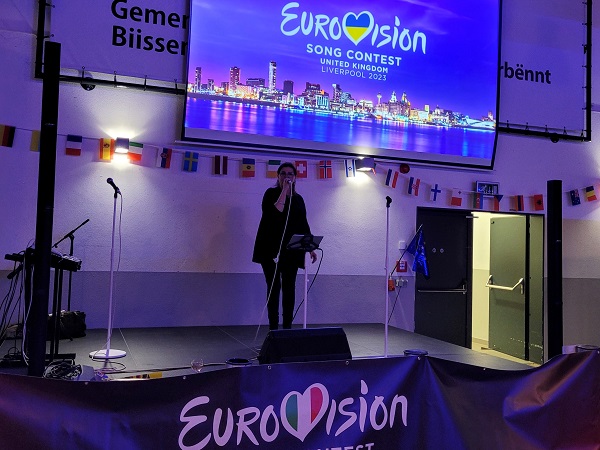 Marion Welter, who represented Luxembourg at the Eurovision Song Contest 1992; Credit: Jazmin Campbell/Chronicle.lu
On Friday 21 April 2023, national Eurovision committee OGAE Luxembourg held its traditional "Eurovision Preview Night" at Hal Frounert in Bissen.
OGAE Luxembourg President Eric Lehmann introduced the event, noting that all proceeds from food and drinks would be donated to LUkraine asbl. He thanked the municipality of Bissen for its continued support for this event, as well as its solidarity with Ukrainian refugees over the past year. He went on to highlight three Eurovision-related anniversaries that are being celebrated in 2023: 30 years since the last time Luxembourg participated in the Eurovision Song Contest (1993), 40 years since Luxembourg's last Eurovision victory (1983) and 50 years since Luxembourg's fourth Eurovision victory (1973).
Eric Lehmann acknowledged the patronage of the Representation of the European Commission in Luxembourg to this year's event and invited Head of Representation Anne Calteux onto the stage. The latter described Eurovision as a long-time "beloved subject" in Luxembourg, a country where Europe is "lived" on a daily basis. She welcomed the Eurovision Preview Night as an occasion to both show solidarity with Ukrainians and celebrate Luxembourg's "diversity and unity" through music.
Inna Yaremenko, Vice-President of LUkraine asbl, thanked the event partners for their support and recalled that the proceeds would go towards helping LUkraine asbl buy more fire engines and ambulances for Ukraine, as part of its "Ukraine is Calling" fundraising campaign.
Attendees (about 150 at one point) then had the opportunity to watch the 37 official video clips of the Eurovision Song Contest 2023 entries (in alphabetical order) on a large screen, before casting votes for their favourites. Many of those present sang and danced along to the various entries, whilst enjoying drinks and homemade Ukrainian dishes such as "varenyky" (filled dumplings).
The organisers tallied up the scores after 65 attendees had selected and submitted their top 10 songs and displayed the results on an interactive scoreboard. The clear winner was France's La Zarra with "Évidemment" (Evidently), to whom Luxembourg ultimately awarded twelve points (in line with the Eurovision points system). Italy's Marco Mengoni came second with "Due Vite" (Two Lives) (ten points), followed by Finland's Käärijä with "Cha Cha Cha" (eight points), Austria's Teya & Salena with "Who The Hell Is Edgar?" (seven points) and the United Kingdom's Mae Muller with "I Wrote A Song" (six points) in third, fourth and fifth place, respectively. The entries from Belgium (five points), Moldova (four points), Portugal (three points), Malta (two points) and Sweden (one point) also made the final top 10.
OGAE Luxembourg has since submitted these results to the OGAE Poll 2023, which launched less than a month ago. More than 20 national committees have participated so far, with the ultimate goal of determining the overall winner of the poll. Currently, Sweden's Loreen is in the lead with her song "Tattoo".
The Eurovision Preview Night in Bissen also featured live performances of past Eurovision entries by Marion Welter, who represented Luxembourg in the Eurovision Song Contest 1992, and Ricardo Vieira, as well as Ukrainian singer Helga Sunshine.
The Eurovision Song Contest 2023 will take place in Liverpool in the United Kingdom from 9 to 13 May 2023.
Between 1956 and 1993, Luxembourg participated in the Eurovision Song Contest every year bar one (1959) and won the contest five times: in 1961, 1965, 1972, 1973 and 1983. There has been a push in recent years to bring Luxembourg back to Eurovision but nothing has been confirmed yet.