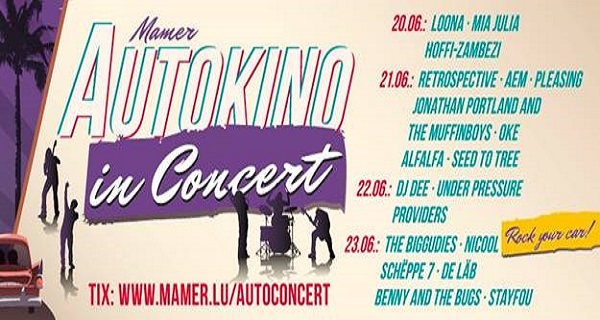 The municipality of Mamer has announced that it is organising a series of drive-in concerts from 20 to 23 June 2020 in the carpark of the Bauhaus store at the business park in Capellen.
Building on the success of its drive-in cinema, the municipality has worked together with its cultural affairs committee to develop "Mamer Autokino in Concert", a four-day musical programme for all tastes.
Like the drive-in cinema, sound will be transmitted via radio waves in listeners' cars, whilst images will be broadcast live via four cameras on a giant 100m2 screen overlooking the car park.
On the first day of the programme, on 20 June, listeners will join in a Mallorcan Ballermann party with Mia Julia and her friends from Schokkverliebt, Frenzy and Sabbotage. Loona and local matadors Hoffi-Zambezi complete the picture. The following day (21 June) is reserved for new faces on the Luxembourg music scene with seven promising groups. The day before National Day (22 June) will then bring together DJ Dee, Under Pressure and the Providers. Last but not least, the programme for National Day (23 June) is entirely dedicated to "Alles op Lëtzebuergesch" (everything in Luxembourgish), with the six bands who share the stage singing in Luxembourgish. Among them is folk-rock band Schëppe Siwen who will present their new album "Looss alles zréck".
This series of concerts will take place in full compliance with the health regulations in force.
Tickets cost €30 per day per car (regardless of the number of passengers) and can be purchased online at www.mamer.lu/autoconcert.
Full Lineup
Sat 20 June @ 19:00: Mallorca-Party on Wheels
19:30 Hoffi-Zambezi
20:30 Loona
21:30 Hoffi-Zambezi
22:00 Mia Julia / Frenzy / Schokkverliebt / Sabbotage
00:00 Hoffi-Zambezi
Sun 21 June @ 16:00: Newcomers & Songwriters made in Lux
17:00 Retrospective
18:00 AEM
18:45 Pleasing
19:45 Jonathan Portland and the Muffinboys
20:45 OKE
21:30 Alfalfa
22:30 Seed to Tree
Mon 22 June @ 19:00: National Eve's Party
20:00 DJ Dee
21:30 Under Pressure
22:30 DJ Dee
23:00 Providers
Tues 23 June @ 16:30: Alles op Lëtzebuergesch
17:30 The Biggudies
18:30 Nicool
19:15 Schëppe Siwen
20:15 De Läb
21:15 Benny and the Bugs
22:15 Stayfou