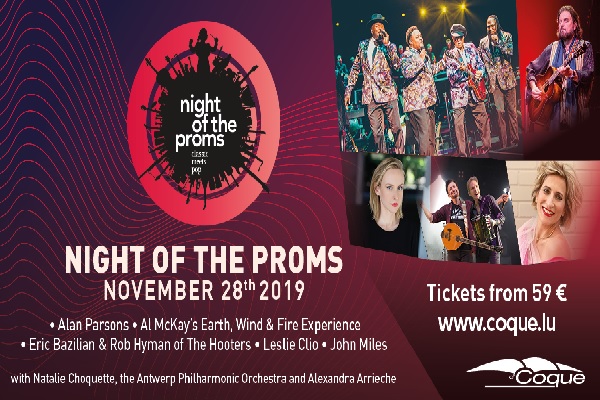 Night of the Proms will be taking place again this year at d'Coque in Luxembourg-Kirchberg, on Thursday 28 November 2019 at 20:00 (doors open at 18:30).
Based on the concept of the British Last Night of the Proms, two Belgian students created Night of the Proms in 1985. This unique music event in Europe, known by the tagline "Classic meets Pop", features renowned musicians bridging all musical genres. Indeed, more than 100,000 people get tickets each year before knowing the lineup.
This year, the Antwerp Philharmonic Orchestra will be providing the musical framework, offering guests a journey through the years and across styles. In addition, the following artists (among others) will be playing live: Alan Parsons; Al McKay's Earth, Wind & Fire Experience; Eric Bazilian & Rob Hyman of The Hooters; Leslie Clio; John Miles; Natalie Choquette; Alexandra Arrieche.
Ticket prices start from €59 and are available from https://www.ticket-regional.de/stage_3579.php?eventtimeID=443700.