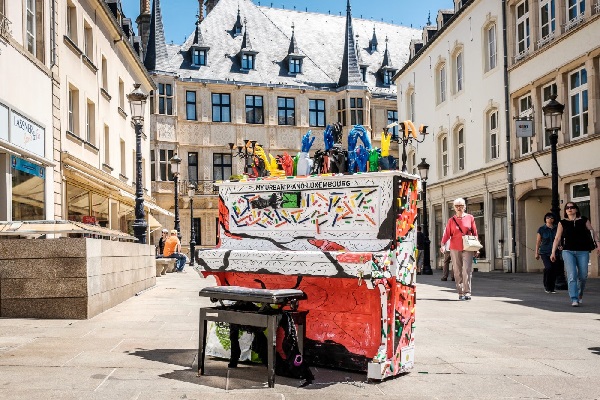 Credit: VdL
Luxembourg pianist David Ianni will be playing at "My Urban Piano Luxembourg" in Place d'Armes on Monday 11 June 2018, from 16:00.
As part of "My Urban Piano Luxembourg", the Ville de Luxembourg (VdL) has organised a concert given by local pianist David Ianni, a concert for the whole family.
David Ianni will play composed pieces for his project "My Urban Piano" which will run until the end of 2018 and in which the artist will visit twelve European capitals and will dedicate a piece at each stage.
Participation in the concert is free.
My Urban Piano Luxembourg is taking place from 31 May to 17 June 2018 and features 21 pianos across Luxembourg City to brighten the public space.
Each piano, decorated by different schools and youth centres in the city is itself a work of art that integrates into its urban environment. The pianos, freely accessible, are at the disposal of the public - amateurs or confirmed musicians - to spontaneously improvise microconcerts.
This year's closing concert will take place on Sunday 17 June at 15:00 in Place Guillaume II where students from the Conservatoire de la Ville de Luxembourg will perform under the direction of Gary Muller. This will last approximately +/- 1.5 hours and admission is free.