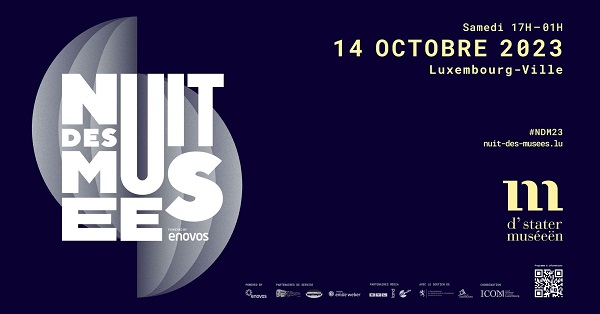 The 22nd edition of the "Nuit des Musées" (Museum Night) will take place in Luxembourg City on Saturday 14 October 2023, from 17:00 to 01:00.
The seven participating museums are Villa Vauban, Casino Luxembourg - Contemporary Art Forum, Lëtzebuerg City Museum, Nationalmusée um Fëschmaart, National Museum of Natural History (natur musée), Musée Dräi Eechelen and Mudam Luxembourg. Each museum has prepared a special programme for the occasion.
There will be performances, music, workshops and special guided tours on the agenda. There will also be culinary breaks planned amid the cultural richness of this night. Music, literature, performances and dance will complement current museum exhibitions. According to the organisers, it is this unusual interaction between different art forms in different locations that makes Museum Night unique.
This year again, as part of the traditional "Coups de cœur"(special favourites) project, seven podcast creators from different backgrounds were invited to present a tour of their favourite exhibition object in the seven participating museums. Beforehand, the creators each familiarised themselves with the work of the museum to which they were invited, in order to draw inspiration from it for their own intervention.
The pre-sale of combined tickets is open in the seven participating museums, at the Luxembourg City Tourist Office and on site or online at www.luxembourg-ticket.lu.
All details and complete museum programmes are available on the nuit-des-musees.lu website.
Museum Night 2023 has obtained the "Mir engageieren eis" (we are committed) logo for its environmentally friendly organisation. The logo is awarded as part of the "Green Events" project by Luxembourg's Ministry of the Environment, Climate and Sustainable Development.