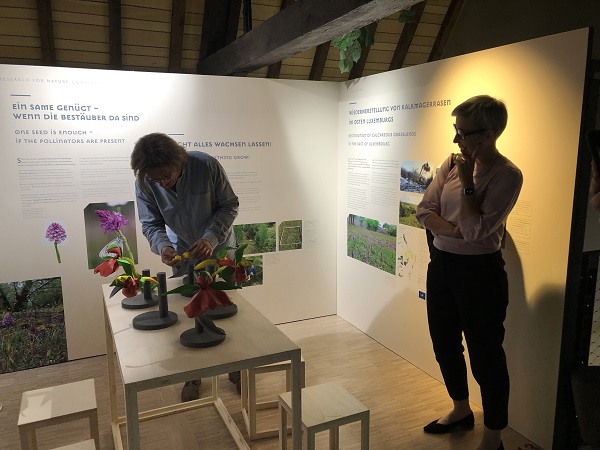 Thierry Helminger, the exhibition's curator; Sam Tanson, Luxembourg's Minister for Culture; Credit: Otilia Dragan/Chronicle.lu
On the evening of Thursday 25 May 2023, the "Trick or Truth! – Wild Orchids in Luxembourg" exhibition kicked off at the National Museum of Natural History (MNHN; natur musée) in Luxembourg-Grund.
The exhibition's opening attracted many visitors, filling up the museum's second floor to almost maximum capacity. Thierry Helminger, the exhibition's curator, walked the audience through the brand-new flower displays. Sam Tanson, Luxembourg's Minister for Culture, was also present for the occasion.
30,000 species of orchids are currently known worldwide, with 45 being native to Luxembourg. The exhibition is divided according to the orchids' natural habitats. It features maps of Luxembourg with marks of where the different types of orchids can be found, but also award-winning dioramas, models of orchids behind glass and hand-crafted 3D botanical models by Sebastian Brandt.
Thierry Helminger explained several facts about orchids, such as their capacity to produce hundreds of thousands of seeds and their need for a specific mushroom in their environment in order to survive and thrive. The flowers' ability to produce flowers relatively quickly and sprout as if "out of nowhere" makes them quite popular. However, although they are able to survive in a variety of ecosystems, Thierry Helminger pointed out that the global biodiversity crisis and the destruction of their natural habitats significantly threatens them.
The exhibition's information panels are in English and German. It is currently open to the public, from 26 May to 27 August 2023 on the second floor of the natur musée.
The entry costs €5 for adults, €3 for senior citizens and people with reduced mobility. Entry is free for youth (under 21 years old) and students (under 26 years old).