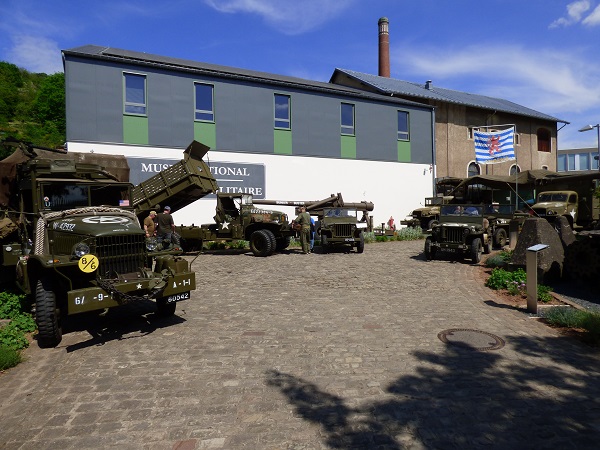 Luxembourg Museum Days 2023 at MNHM and Musée d'Histoire(s) Diekirch; Credit: Archives communales de Diekirch
The 26th edition of Luxembourg Museum Days, held on Saturday 20 and Sunday 21 May 2023, brought more than 17,000 visitors to 37 museums across the Grand Duchy.
According to the International Council of Museums (ICOM) Luxembourg (organiser of the event), a total of 17,342 visits were recorded over the weekend, representing an increase of 13.6% compared to last year's edition.
In Luxembourg City, five new exhibitions launched ahead of Luxembourg Museum Days: "L'Alchemiste. Sélection d'œuvres d'Arthur Unger" (The Alchemist: selected works by Arthur Unger) and "EMOP, Rethinking Identity. Je est un autre" at the Nationalmusée um Fëschmaart (formerly the National Museum of History and Art); "Bodies of Identities" and "Tills" by Raphaël Lecoquierre at Casino Luxembourg; "Dayanita Singh. Dancing with my Camera" at Mudam Luxembourg.
In addition to visits to their permanent and temporary exhibitions, the museums offered a varied programme on the occasion of Luxembourg Museum Days 2023. For example, Ligia Lewis presented a new version of her performance "deader than dead" at Mudam Luxembourg, created together with performers based in Europe. Visitors could also attend a demonstration by artist Arthur Unger of his unique "pyrochimiogram" technique on the forecourt of the Nationalmusée um Fëschmaart.
Casino Luxembourg's Infolab was transformed into a photography studio with Pit Reding, dedicated to self-portraits. The National Museum of Military History (MNHM) in Diekirch offered body painting with camouflage paint. Visitors could also freely discover the underground of the Slate Museum in Haut-Martelange (up to a depth of -42 metres).
According to this year's theme of sustainability and well-being, yoga sessions were offered in the park of Villa Vauban, at the Lëtzebuerg City Museum as well as at the Roman Villa in Echternach. The National Museum of the Art of Brewing in Wiltz organised a special guided tour on the art of brewing for sustainability and well-being, following which visitors could enjoy a craft beer ("Éisleker Cervoise"), brewed with mainly local ingredients. During a creative workshop at the exhibition "The Family of Man", visitors could upcylce the museum's old banners into original cachepots with a sewing machine. Moreover, at the National Museum of Natural History (natur musée), a "Birddrums Electroplume" concert was on the agenda.
Various children's activities completed the offer. At the Rural Museum Binsfeld, for example, children could rediscover the "Éislécker Sprooch" (language of the Oesling). At the National Museum for Historic Vehicles in Diekirch, there was a children's reading session on the history of cars. At the Tudor Museum in Rosport, children assembled a small robot, whilst others made paper planes at the Luxembourg Aviation Museum in Mondorf-les-Bains. The Musée d'Histoire(s) Diekirch also offered various games and an escape room.
The 27th edition of Luxembourg Museum Days has been confirmed for May 2024.