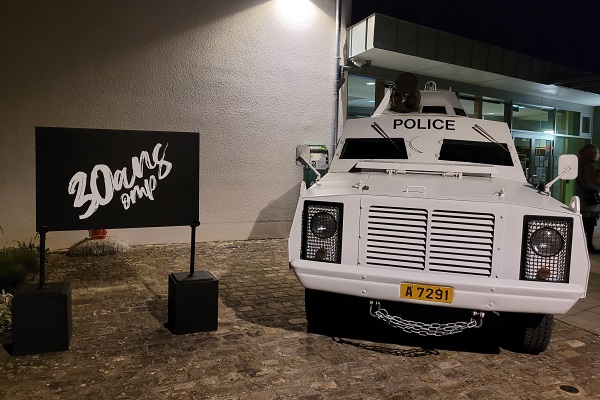 Credit: Jazmin Campbell / Chronicle.lu
On Tuesday evening, the Luxembourg Army and the National Museum of Military History (Musée National d'Histoire Militaire - MNHM) in Diekirch presented a new temporary exhibition to members of the public.
The exhibition "30 ans OMP - Opérations de maintien de la paix 1992-2022" and accompanying book mark the 30th anniversary of Luxembourg's involvement in peacekeeping operations.
This new temporary exhibition (in French) explores the past 30 years of Luxembourg's involvement in international peacekeeping efforts through various objects, photographs and documents.
Since 1992, Luxembourg soldiers have taken part in operations under the aegis of the United Nations (UN), the North Atlantic Treaty Organization (NATO) and the European Union (EU) to restore and safeguard peace, to ensure freedom and democracy and to support the victims suffering from the consequences of war. In addition to military operations, Luxembourg has participated in purely humanitarian missions.
Over the past 30 years, more than 1,200 Luxembourg soldiers have been deployed in Croatia, Bosnia and Herzegovina, Kosovo, Macedonia, Lebanon, Afghanistan, Iraq, Congo, Chad, Uganda, Mali, Mozambique, Turkey, Iraq, Bangladesh, Albania, Cambodia, Sri Lanka and Pakistan.
For the opening of this exhibition, guests were greeted by a special vehicle (made available by the Police Museum) at the door of the MNHM: a Cadillac Gage Ranger ("Peacekeeper") 4x4 Armored Car, which was in service in the Luxembourg Army from 1981 onwards; four of these vehicles were deployed in 1992 as part of the United Nations Protection Force (UNPROFOR) in Yugoslavia. In the mid-1990s, these vehicles went to the Luxembourg Gendarmerie and were used by the Grand-Ducal Police until 2005.
In his opening speech, Frank Rockenbrod, President of the MNHM asbl, recalled that the museum was a place to share information that is not always known among the public. This new temporary exhibition gives visitors insight into the lives and experiences of Luxembourgish soldiers. He thanked the Luxembourg Army for its support in putting together this exhibition.
Colonel Pascal Ballinger, Vice Chief of Defence, presented the Luxembourg Army's view on this exhibition and how they had wanted to address this subject sooner rather than later (i.e. not waiting another 70 years). The Luxembourg Army thus worked together with the MNHM to make it happen. He thanked everyone involved in the process and hoped visitors would enjoy the exhibition.
AACSPL committee member Christian Heinen then presented the veterans association's mission, namely to participate in commemorative ceremonies (remembrance) in Luxembourg and abroad and to support soldiers after their active duty (24/7 assistance and moral support).
For his part, MNHM Director Benoît Niederkorn explained that it had been important to create a new scenography for this temporary exhibition, which serves remembrance purposes and addresses the subject from an historical point of view, whilst also addressing the issue of post-traumatic stress disorder (PTSD). For the second point (remembrance), the MNHM has launched a public call for documents related to this subject, not least because it is quite recent history. More information is available on the website https://30ansomp.mnhm.net/.
The official speeches were followed by a tour of the exhibition. Visitors could also enjoy finger food and drinks, and take home a free copy of the book 30 ans OMP - Opérations de maintien de la paix 1992-2022.