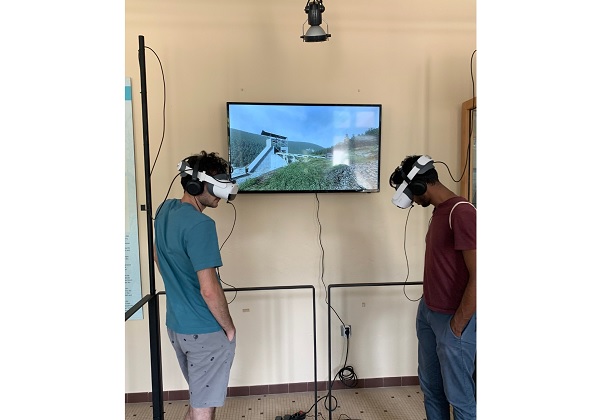 Credit: Syndicat d'Initiative Stolzebuerg
The Syndicat d'Initiative of Stolzebuerg recently announced the opening of a new attraction at the "Koffergrouf" old copper mine near Stolzembourg in north-eastern Luxembourg.
Hidden in one of the many valleys of the Our region not far from Stolzembourg are the remains of Luxembourg's former and only copper mine. The considerable copper deposits have attracted several investors to the remote region over the past centuries and enabled the mine to operate until 1944.
Based on historical documents and photo-realistic real-time 3D technology, the outer buildings destroyed after the Second World War, such as the winding tower, office and workshops, have been digitally reconstructed and animated.
The virtual reality (VR) glasses permanently installed in the Copper Mine Museum offer an innovative way to travel more than 70 years into the past and immerse oneself in the miners' everyday working life.
Together with the Syndicat d'Initiative Stolzebuerg, the Luxembourg company and expert in interactive 3D visualisation Vizz took on the project and developed a showcase example for the use of digitalisation and VR technology in museums.
"The challenge with this project was the extremely small number of photographs and documents that document the architecture and functionality of the buildings and facilities that no longer exist. Nevertheless, we managed to create an authentic and photorealistic representation of the entire mine site using the latest 3D technology", explained Mathias Keune, CEO of Vizz.
In addition to its use in VR, the digital reconstruction of the mine offers various other possible applications, such as the creation of images and animated films, which would not be possible without 3D technology.
"Compared to other historic industrial sites in Luxembourg, whose buildings have been spared from demolition, our case offers the fascinating possibility of immersing visitors in a forgotten world, most of which unfortunately no longer exists in reality", commented Fernand Zanter, President of Syndicat d'Initiative Stolzebuerg.
Equipped with rubber boots and a helmet, visitors can take part in a unique tour of the galleries after their virtual journey through time.
Guided tours of the copper mine take place on Sundays and public holidays from Easter to the end of October. During the tourist season from mid-July to the end of August, guided tours are scheduled daily. The meeting point is at the museum (5A Rue Principale, Stolzembourg) at 14:00.
Online reservation is required at: www.stolzembourg.lu or www.visit-eislek.lu.