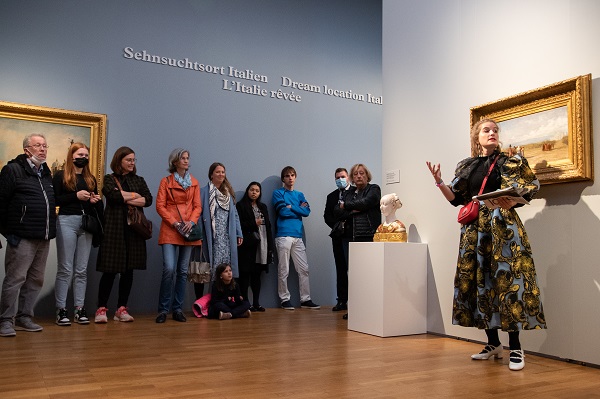 Credit: Milena Campagna
The 20th anniversary edition of "Nuit des Musées" (Museum Night) took place in Luxembourg's capital, under the CovidCheck regime, on Saturday evening.
The event, organised by d'stater muséeën (city museums), recorded a total of 16,699 visits (all participating museums combined).
For this anniversary edition, the programme offered by the various museums included several special guided tours, shows and performances, concerts and DJ sets, photobooths, workshops for children, readings and culinary surprises in addition to the temporary and permanent exhibitions on display.
Seven digital content creators from different worlds took over the role of guide and offered a tours of a chosen work every hour in another museum. At Villa Vauban, cellist Annemie Osborne presented a musical promenade composed of excerpts from the solo repertoire for classical cello, traditional songs and melodies and improvisation. At Casino Luxembourg, the artist collective ykasppkmkm presented a performance combining contemporary dance, song and music. At Lëtzerbuerg City Museum, Pol Belardi & Friends performed first inside, then on the Corniche, where classical instruments were replaced by a DJ set to end the evening. At the National Museum of History and Art (MNHA), alongside various guided tours of current exhibitions, dancer-performer Ileana Orofino and composer Damiano Picci presented improvised and ephemeral performances translating the paintings in the exhibition on Luxembourg painter Robert Brandy into living art. At the National Museum of Natural History (natur musée), visitors listened to the premiere of Luc Spada, who will release his first music album, with a strong reference to literature. At the Dräi Eechelen Museum, the charismatic figure of Adam Sigmund von Thüngen, commander of the fortress in the 18th century, invited visitors to step back in time; the namesake of Fort Thüngen revealed his personal journey in Luxembourg as well as the development of the fortress city. Finally, at Mudam Luxembourg, visitors experienced the new choreographic work 'If, If, If, Then (Expanded version)' (2021) by Jacopo Jenna, performed by three dancers.
In order to facilitate late-night journeys, electric shuttles provided round trips from the Upper Town (MNHA) to the Grund district (natur musée). The buses of the non-profit Routemaster and the Frënn vum ale stater Bus, as well as those of the City of Luxembourg, connected the museums of the city centre and those in Luxembourg-Kirchberg.
The event ended at the Aquarium of Casino Luxembourg with a DJ set by Bjeor, organised by Lagerkultur.
The 21st edition of Luxembourg's Museum Night is set to take place on Saturday 8 October 2022.