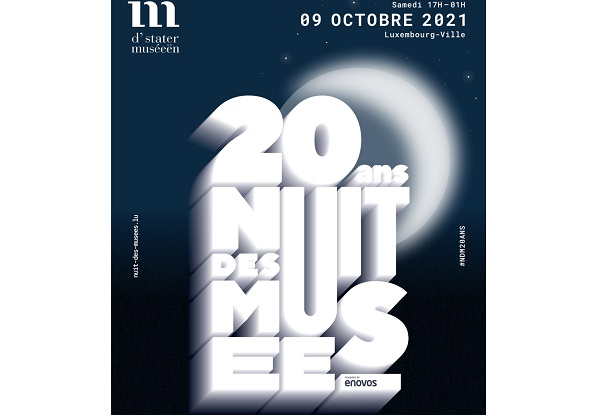 The 20th anniversary edition of "Nuit des Musées" (Museum Night) will take place in Luxembourg's capital on Saturday 9 October 2021, from 17:00 to 01:00.
Launched in 2001 on the initiative of the "d'stater muséeën" (city museums) network, Museum Night has since become an unmissable annual meeting place for culture and heritage enthusiasts in Luxembourg. The event offers visitors access to the permanent collections and temporary exhibitions of the network's seven museums at night.
This year, Museum Night will celebrate its 20th anniversary with a special programme featuring guided tours, music, performances, workshops, culinary surprises and all-night access to festivities at Casino Luxembourg - Forum d'art contemporain.
In order to facilitate access, a combined ticket for the seven museums has been introduced, as well as free shuttle buses.
Background
In 2001, the d'stater muséeën network was created to raise public awareness of the cultural offer of seven museums in the capital. That same year, the network organised the first Museum Night, which attracted around 6,000 visitors. Museum Night quickly became a flagship event in the Grand Duchy and has attracted more visitors year after year: during the last edition, in 2019, more than 24,000 people visited the museums.
Like many other cultural events, the 2020 edition was cancelled due to the COVID-19 pandemic. This year, Museum Night will go ahead as a CovidCheck event; entry is reserved for people who can present a valid CovidCheck certificate proving vaccination, recovery or a negative test (PCR or certified rapid antigen). On-site self-tests will not be accepted. Children under 6 are exempt from presenting a certificate.
Before their arrival, visitors have the opportunity to perform a certified rapid antigen test free of charge in one of the fifteen test centres located throughout the capital. In addition, the free antigenic test certification centre of the City of Luxembourg (70 Grand Rue, L-1660) will be open until 21:00 on the occasion of Museum Night, in collaboration with Santé Services.
Further information, including the museum programmes, is available on the new website www.nuit-des-musees.lu, which was created especially for this 20th edition.