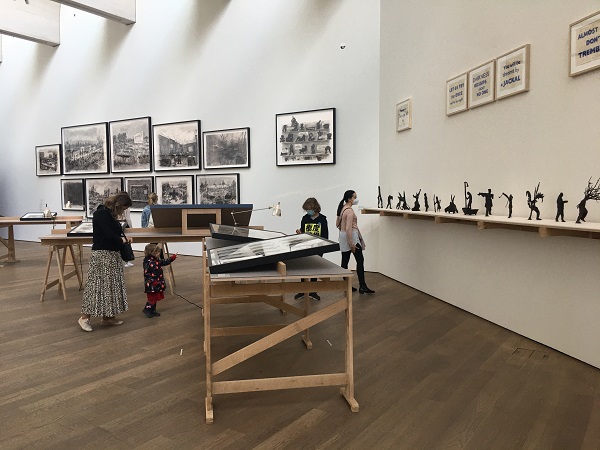 Credit: ICOM Luxembourg a.s.b.l.
The 24th edition of Luxembourg Museum Days attracted a total of 14,619 visitors to its 45 locations across the Grand Duchy last weekend, representing a 36% decrease in visitor numbers compared to 2019 (the last reference year).
Despite this drop in visitors, the fact that there were no restrictions in museums in 2019 and the 2020 edition had to be held in digital form means that this year's Luxembourg Museum Days can still be deemed a success.
Luxembourg Museum Days 2021 were once again a privileged time of meetings between museums and their public. The two-day event took place in compliance with the sanitary measures in force and in a friendly atmosphere, punctuated with activities, guided tours and exchanges for the whole family.
In Luxembourg City, four new exhibitions launched ahead of this year's Luxembourg Museum Days: "Enfin seules" at Mudam Luxembourg, "Robert Brandy" at the National Museum of History and Art (MNHA), "Une petite histoire de carrés" at Lëtzebuerg City Museum and "Silver Memories" at Casino Luxembourg.
Along with the permanent and temporary exhibitions, the participating museums offered a varied cultural programme over the weekend. Visitors were taken on a puzzle rally exploring museums in Remerschen, Schengen, Bech-Kleinmacher, Grevenmacher, Mondorf-les-Bains and Ehnen. Children could participate in a workshop on wine bottle corks at the "A Possen" museum, assemble a small robot at the Tudor Museum (Rosport Castle) or extract precious stones at the National Museum of Natural History, to name but a few activities.
Adults had the opportunity to take part in an open-air painting workshop at the Victor Hugo House - Literary Museum in Vianden, enjoy a reading by the author Heinrich Paul at the International Gendarmerie and Police Museum in Capellen or to take advantage of the many specially organised guided tours in museums throughout the weekend.
The 25th edition of Luxembourg Museum Days will take place on 14 and 15 May 2022.