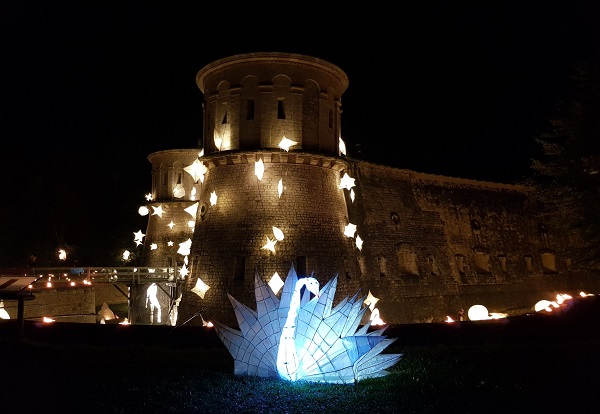 Musée Dräi Eechelen; Credit: Jazmin Campbell
On Saturday 12 October 2019, the 19th edition of the nocturnal and festive Nuit des Musées attracted a total of 23,541 visits at all the participating museums.
The seven participating museums of the "stater muséeën" group opened their doors until late at night, this year under the theme "Museums- be moved".
Seven athletes from different sporting backgrounds took over the role of guide and showed visitors a chosen work in one of the museums. Concerts, guided tours, children's workshops and gourmet surprises completed this year's offer.
During the 19th Nuit des Musées, visitors could discover various works by Corneille Lentz (Villa Vauban), the "If Then Else" exhibition (Casino Luxembourg), the Melusina statue, accompanied by children's mermaid-inspired workshops, as well as the "Bauhaus à Luxembourg" exhibition (Lëtzebuerg City Museum). The MNHA also presented its new exhibition, "#WIELEWATMIRSINN 100 years of universal suffrage in Luxembourg (1919 -2019)", whilst the Natural History museum showcased its new exhibition, "Geckeg Vullen" (crazy birds). Meanwhile, the Musée Dräi Eechelen donned specially designed lanterns for the occasion by English artist Bryan Tweedle and his students from Maastricht, who transformed the museum into a magical world for one night. Finally, at Mudam Luxembourg, visitors had an extraordinary sound experience with the Victor Kraus Group, seven key musicians on the Luxembourg and international scene, as well as the opening of Anri Sala's new exhibition. The night ended with a DJ set by Katy De Jesus at the Casino Luxembourg Aquarium.
In order to make the route even more pleasant, the M-Express, a small green train, provided for the return trips from the Upper Town (MNHA) to the Grund ('natur musée'). Several buses also connected the museums in the city centre and those in Kirchberg.
The 20th anniversary edition of the Nuit des Musées is scheduled for Saturday 10 October 2020.