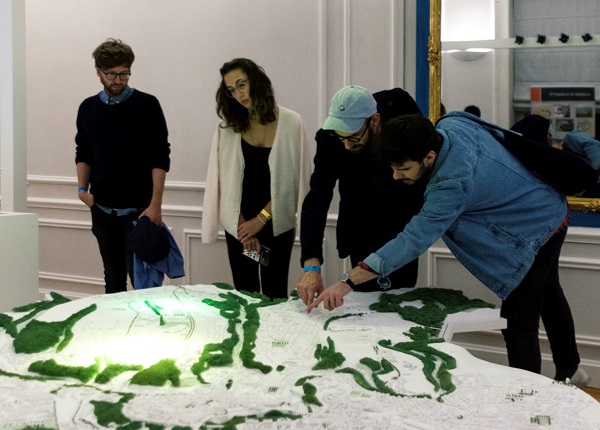 Nuit des Musées 2018; Credit: © d'stater muséeën / Martine Pinnel
The 19th edition of the annual Nuit des Musées, under the theme "Museums - be moved", will be taking place on Saturday 12 October 2019 from 18:00 to 01:00 across Luxembourg-City.
As usual, the seven city museums (d'stater muséeën) will open their doors at night for this year's Nuit des Musées, which has become an unmissable annual event for culture and heritage enthusiasts in Luxembourg since its first edition in 2001.
As in previous years, a rich programme of events around collections and temporary exhibitions has been put together, including special guided tours, workshops for children and adults, performances, lectures, film screenings, DJ nights, culinary surprises and more.
This year's theme, "movement", highlights the openness of museums to all kinds of movement: physical, emotional and intellectual. In this context, seven athletes from different sports disciplines will take over the role of guides and offer visitors a tour of a chosen work in one of the seven museums. In addition, Casino Luxembourg will extend the festivities until 03:00 with a DJ set by Katy De Jesus.
New this year is the free "M-Express" service. The little green train will run between the upper town (MNHA) and Grund (Natur Musée) districts. The traditional shuttle bus will connect the museums in the city centre and those in Kirchberg (via Glacis). Shuttles and trains are free from 18:00 to 01:00.
Presale tickets cost €10 for adults (or €15 at the door), €5 for 16-26 year olds (€7 at the door) or €1.50 for Kulturpass holders. Entry is free for children under 16 years of age. These tickets can be purchased from the participating museums, the Luxembourg City Tourist Office or on the national ticket portal luxembourgticket.lu (before 14:00 on 12 October).
Nuit des Musées is organised jointly by the City museums: Mudam Luxembourg, Dräi Eechelen, National Museum of Natural History, Casino Luxembourg, National Museum of History and Art, Lëtzebuerg City Museum and Villa Vauban.
The complete programme and further information are available on the website www.museumsmile.lu