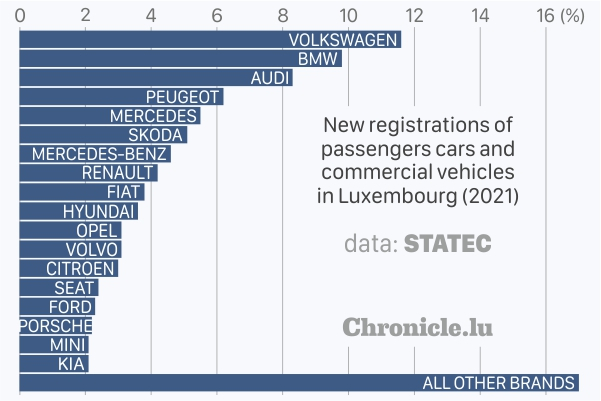 Recent figures from Luxembourg's national statistics agency, Statec, show that Volkswagen remains the most popular vehicle brand in the Grand Duchy with 5,168 (11.6%) of the total of 44,426 new registrations of passenger cars and commercial vehicles in 2021.
The number of new car registrations in the Grand Duchy has fallen two years in a row, 1.81% from 2020 (45,189) and more dramatically 19.34% compared to 2019 (55,008). New registrations in 2019 indeed remain the highest annual total recorded.
The month with the highest number of new car registrations last year was March (4,967), whilst the lowest number of registrations was recorded in August (2,792).
The most popular car brands in Luxembourg with at least a 2% share in 2021 (new registrations) were Volkswagen (5,168), BMW (4,372), Audi (3,671), Peugeot (2,757), Mercedes (2,459), Skoda (2,252), Mercedes-Benz (2,030), Renault (1,854), Fiat (1,710), Hyundai (1,590), Opel (1,384), Volvo (1,362), Citroen (1,333), Seat (1,065), Ford (1,035), Porsche (987), Mini (955) and Kia (912).
Luxembourg-resident owners of newly-registered vehicles clearly have a preference for German manufacturers, with VW, BMW, Audi and Mercedes all in the top five, with only French manufacturer Peugeot breaking into the top five.
With Mercedes and Mercedes-Benz being grouped separately, they represent the 5th and 7th most popular brands; however, if they were to be grouped together, then they would be clearly in 2nd position overall.
Tesla, new to the Luxembourg market in 2016, were saw 772 new registrations in 2021, representing the 19th most popular brand in Luxembourg in 2021.
In terms of fuel types, 38.2% of new registrations were powered by petrol engines and 25.4% diesel, while the share of electric vehicles nearly doubled to 10.5% compared to 5.5% share in 2020.