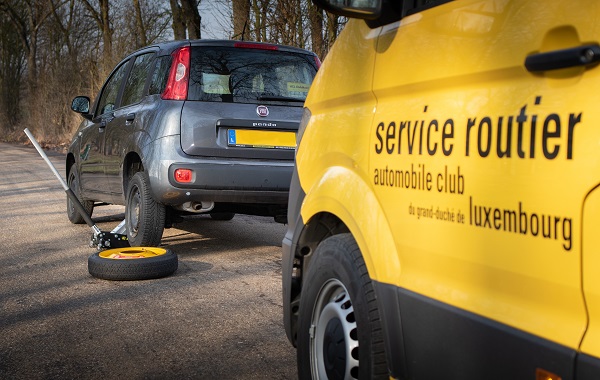 Credit: ACL
The Automobile Club of Luxembourg (ACL) has reported that it has been "hot and cold" for the organisation this year: between the floods in mid-July and going on holiday, ACL employees were kept busy.
The ACL answered more than 45,980 calls at its Assistance Centre between the beginning of July and the end of September, whether in Luxembourg or abroad; July was a particularly difficult month for all ACL teams following the flooding.
In the weeks following the second half of July, ACL experts were called out 11,000 times by phone, almost double the number in July of the previous year. As for the Road Service, it intervened 3,106 times: the vast majority of cases involved extricating damaged vehicles after the surge in waters. In all, the ACL teams removed 563 submerged or stuck vehicles. In the vast majority of cases, there was unfortunately no longer any hope of restarting the engine.
The ACL noted that these circumstances are, however, quite exceptional. Normally, thanks to the mechanical knowledge of its specialists, many breakdowns can be immediately diagnosed and repaired over the phone. On site, employees of the ACL Road Service generally manage to immediately restore mobility to members for 87.84% of breakdowns. "Thanks to the tools that the ACL has acquired in recent years, such as the universal spare wheel, our new patches or the mobile battery charging station, our road service experts are often able to repair on site. For our members this represents many less worries. Restoring mobility as soon as possible is our specialty. For the ACL, this is a guarantee of seriousness and credibility," said ACL director, Jean-Claude Juchem.
An aging fleet
It is not just on the flooding fronts and their consequences that the ACL has been in high demand this summer. Due to the health crisis, many ACL members have chosen to drive to their holiday. However, since the first confinement in March 2020, the vehicle fleet has aged considerably with vehicles aged on average 7 years. "Today, there are more than 60,000 cars over ten years old registered in Luxembourg. However, a car battery has an average lifespan of four years. Who says aging fleet, also says more frequent battery failure. Each ACL response vehicle is equipped with spare batteries to allow our members to leave immediately. If our Road Service cannot repair, the ACL will make a replacement car available to the member," Jean-Claude Juchem stated.
This deterioration in the general condition of cars mechanically causes more breakdowns and therefore interventions for the ACL road service. In three months, from the beginning of July to the end of September, the ACL Assistance Centre in Bertrange recorded nearly 46,000 calls for 12,900 interventions.