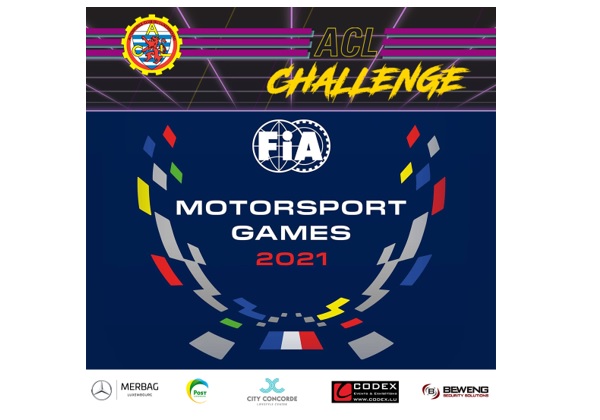 The Automobile Club du Luxembourg has confirmed that it will enter a driver for the FIA ​​Motorsport Games at the end of the second round of the ACL Challenge held on a simulator.
The first round of the ACL Challenge kicked off on 15 March 2021 at home on the RaceRoom game; participation is open to anyone aged at least 15 and driving under the Luxembourg flag in the game. A few days before the end of this first event, more than 200 people who have already taken part in the event to try to qualify in the Top 20 in order to continue the adventure.
Many awards had already been announced, thanks in particular to event partners of Beweng Security Solutions, City Concorde, Codex, Merbag and POST Luxembourg, but a new award has been added to the list.
Whoever collects the most points in the second round of the ACL Challenge will have the opportunity to represent Luxembourg and the ACL at the 2021 FIA Motorsport Games in the "Digital Cup" category. This multidisciplinary event will be held from 29 to 31 October 2021 at the Paul Ricard circuit site, near Marseille in France.
There are, however, a few selection conditions.
The selected person must hold Luxembourgish nationality, be at least 16 years old, have no real life competition experience and not hold a racing license.
People can register until 28 March, directly on the RaceRoom game where a dedicated ACL event server is open:
https://game.raceroom.com/competitions/1277/leaderboard
The circuits and cars used are made available free of charge for the duration of the event.
No in-game purchase is necessary.
A contribution of €70 will be requested from the 20 selected drivers which will allow them to take part in races 2 and 3.
Event 1: at home from 15 to 28 March
Event 2: on a simulator from 24 to 25 April (Mondercange site)
Event 3: on karting site on 15 May (Mondercange site)