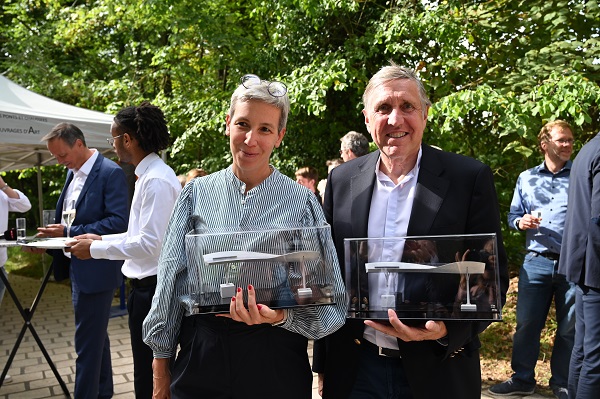 (L-R) Sam Tanson, Minister for Culture; François Bausch, Luxembourg's Minister for Mobility and Public Works; Credit: MMTP
On Friday 15 September 2023, Luxembourg's Minister for Mobility and Public Works, François Bausch, and the Minister for Culture, Sam Tanson, together with Marc Widong, Director of Fonds Kirchberg, attended the laying of the last section of the pedestrian and cycle bridge which connects Avenue John F Kennedy to Dräi Eechelen Park in Luxembourg-Kirchberg.
The new pedestrian and cycle bridge in the district of Kirchberg, planned as part of the general development plan of the City of Luxembourg (PAG), as a "corridor and reserved space for soft mobility projects", integrates into the landscape and the wooded environment.
By crossing the Dräi Eechelen national forest and connecting the contemporary urban development of the Kirchberg plateau corresponding to the Rout Bréck-Pafendall exchange hub with the Grand Duke Jean Museum of Modern Art (Mudam) as well as with the Dräi Eechelen Museum, the new footbridge aims to enhance both visibility and visitor numbers at the location.
According to the ministries, the project's design and layout take into consideration the forest's evolution in order to preserve the movement of existing trees as much as possible. The lighting system integrated into the footbridge aims to ensure the users' safety, while limiting possible impacts on the nightlife of local wildlife. Likewise, the limited number of piles diminishes the impact on the forest floor and in the clearing. Duplex stainless steel was chosen for its mechanical properties due to its weather resistance and high durability. According to the ministries, its mirror polishing aesthetic will give the footbridge a particular aesthetic, unique in Luxembourg.
The bronze sculpture Beliebte Stellen/Privileged Points (2017) by artist Nairy Baghramian moved from Fort Thüngen to John F Kennedy Avenue, constitutes the entry point to the Dräi Eechelen Park and the museum, to which pedestrians and cyclists will have access via the new footbridge.
The overall cost of this project amounts to €7,000,000 including tax. The final commissioning of the gateway is planned for early 2024.