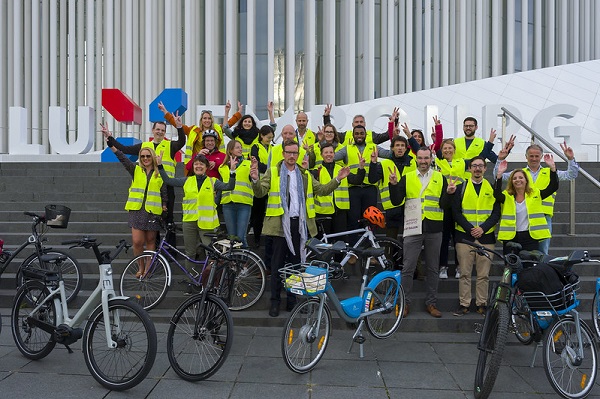 Bike to work day in September 2019; Credit: IMS Luxembourg
Chronicle.lu recently had the opportunity to speak with Laetitia Georgel and Laetitia Mitchell, project managers at IMS Luxembourg, about the upcoming car-free day in Cloche d'Or and other initiatives planned as part of European Mobility Week.
European Mobility Week is taking place this year from Saturday 16 to Friday 22 September under the theme "Save Energy".
As part of this initiative, IMS is organising three awareness-raising and practical events: a car-free day in Cloche d'Or on 18 September, a cycling event in Esch-Belval on 19 September and a best practices workshop on 21 September.
Chronicle.lu: Tell us about IMS's involvement in European Mobility Week. Why does IMS consider this initiative (and sustainable mobility in general) to be important, particularly in Luxembourg?
Laetitia Georgel & Laetitia Mitchell: According to LIST's recent work, the carbon footprint linked to the mobility of a Luxembourgish resident accounts for about a quarter of its total footprint, the largest category of carbon emission, before housing, food and consumption goods. In addition, the number of journeys is planned to grow by about 40% between 2017 and 2035, according to the National Mobility Plan. Reducing the amount of greenhouse gas emissions linked to the transport of persons in Luxembourg is essential to achieve national reduction targets of -55% of total emissions by 2030 (compared to 2005). IMS is a partner for the Climate Pact and works alongside Luxembourg's companies to reduce their environmental impacts. That is why we have been promoting sustainable mobility for the past eight years, taking part in the actions of the European Mobility Week occurring every year in September. Thanks to our network of committed companies, we can work towards a more sustainable mobility in Luxembourg.
Chronicle.lu: How do this year's activities differ from previous years? Are more organisations getting involved and becoming aware of the importance of such initiatives?
Laetitia Georgel & Laetitia Mitchell: We have been organising at least one action every year and it is fair to say that this year will a busy European Mobility Week for the IMS network. We will have three events that focus on different topics: the first one is about challenging people to use another transport mode than their individual car to come to the Cloche d'Or district. The second one in Belval will be all about cycling and getting used to riding a bike in the city with different types of bikes available to trial for free (thanks to our partner the ACL and their network). And the last one will allow our participants to share best practices in place in their organisations on five different topics: electromobility, active mobility, shared mobility, mobility policies and parking management. The level of interest in topics regarding mobility has always been high; that is why we have diversified the topics to answer the needs of our members to help them raise awareness in their organisations. The number of members in our network has been growing steadily with an increase of about 40% versus five years ago.
Sustainable development is not a new topic at all. However, the increase in need for transparency, the improvement of calculation method for carbon emission and the pressure coming from the evolving regulation on reporting is challenging companies. They are much more aware of their impact and show more and more commitment to improve their practices.
Chronicle.lu: To kick off European Mobility Week in Luxembourg, IMS is organising a car-free day in Cloche d'Or. What led to the choice of this particular district? Who are the participating organisations and does IMS approach the organisations or vice versa for such initiatives?
Laetitia Georgel & Laetitia Mitchell: We have several working groups across the country, most of them in Luxembourg City, located in different neighbourhoods. Companies who become part of these groups are committed to take actions to reduce their environmental impact. IMS Luxembourg coordinates the groups and liaises with the City or other relevant public authorities to work on identified projects relating to mobility, waste management, biodiversity preservation or circular economy. This initiative came from the members of this group in the Cloche d'Or district. We are very happy to be able to support the organisations taking part in this initiative: the European Commission, Deloitte, PwC, Schroeder & Associés and Vauban French School, representing over 6,000 employees in this area. Cloche d'Or is a district affected by the number of cars passing by every day. Increasing the part of soft mobility and public transport use in the zone is of major importance for all as it also has a clear impact on air quality and well-being overall thanks to a more active living.
Chronicle.lu: How does this car-free day work in practice? And how does IMS support organisations in this area?
Laetitia Georgel & Laetitia Mitchell: IMS provided communication support that the five companies used to share the initiative with all their employees. Then, each company will have a different way to promote the initiative internally with specific incentives or other activities. IMS will be present on site at each participating company on the day to discuss sustainable mobility in the workplace with the employees. We designed an ecomobility brochure, a very practical guide on how to find all the information needed to move around Luxembourg in a sustainable way, and we will share it on the day. We also have a more detailed guide for our members to help organisations put in place a sustainable mobility policy in their organisation.
Chronicle.lu: What is the ultimate goal of such activities? Does IMS hope that such initiatives will continue beyond European Mobility Week? If so, how can this be encouraged?
Laetitia Georgel & Laetitia Mitchell: We aim at different levels of awareness raising. Firstly, the European Mobility Week is not always well known by people, so we want them to be aware of this event and realise how mobility affects their carbon emissions. In addition, at IMS, we aim at inspiring people by promoting initiatives and solutions we believe can make a change. The use of public transport, car-pooling / car-sharing and soft mobility is less impacting than the use on an individual car, for those who can avoid it. All these mobility solutions need to be seen as a whole to enable everyone to choose their own sustainable, efficient and comfortable way to come to work. We also aim at inciting to concrete actions. There are very good practices in companies, especially around mobility and thanks to our network, the sharing of information is facilitated. That is why we organise best practices sharing events where members can learn about each other and find inspiration for their own actions or policies.
Our actions on mobility are all year long. We regularly work with our Climate Pact working groups on this topic and liaise with the Ministry of Mobility or relevant authorities in the cities where our working groups are based on a regular basis. All sustainable mobility solutions can be encouraged all year round, thanks to a well-thought, fairly designed sustainable mobility policy that respects the needs of all employees while remaining ambitious.