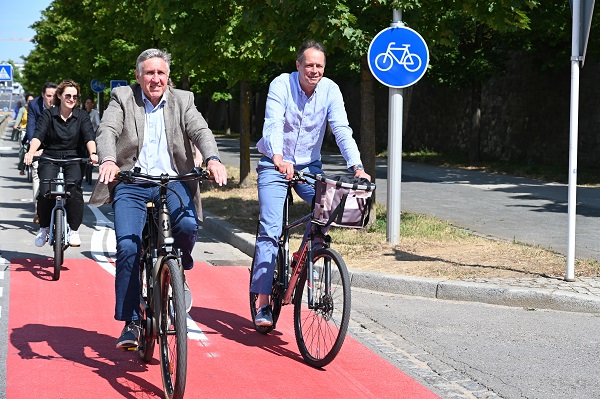 (L-R): François Bausch, Deputy Prime Minister, Minister of Mobility and Public Works; Marc Widong, Director of the Kirchberg Fund; Credit: MMTP
The Ministry of Mobility and Public Works has announced that, on Friday 29 July 2022, François Bausch, Deputy Prime Minister and Minister of Mobility and Public Works, together with Marc Widong, director of the Kirchberg Fund, inaugurated the new cycle path on rue Erasme in Luxembourg-Kirchberg, linking Avenue John F. Kennedy and Boulevard Konrad Adenauer.
This new development of roads and public spaces is part of the overall approach of the Kirchberg Fund to develop urban planning on a human scale according to the principles developed by Gehl architects (Copenhagen) with the aim of revitalising the district, activating ground-level spaces and above all to make the streets safer for cyclists and pedestrians.
The new two-way cycle path has its own lane and is protected from traffic A traffic lane for motorised vehicles as well as a parking strip have been removed in favour of soft mobility. This is a transitional arrangement that distributes the space given to the different road users more equitably and offers a better quality of stay. Thus, the pedestrian area along the street has been widened and can now accommodate temporary pavilions, food trucks, terraces and street furniture. Eventually, rue Erasme will undergo a definitive redevelopment with housing and 24/7 urban entertainment.
"Our vision is to put cyclists and pedestrians on the same footing as motorists. That they can feel safe in traffic and that they choose soft mobility with pleasure. Getting around by bike should not be reserved for the more adventurous, but should be an alternative within everyone's reach, young and old. With its increasingly dense and constantly improved network of cycle paths, Kirchberg is on the right track," said Minister Bausch.
The new cycle path creates an important connection between the southern part and the northern part of the plateau which contributes to breaking with the parallel orientation of most of the flows which cross the plateau from east to west. In addition, at the roundabout rue Erasme, rue Léon Hengen and rue Alcide de Gasperi, cyclists can turn right to take the PC2 national network cycle path between Luxembourg and Echternach.